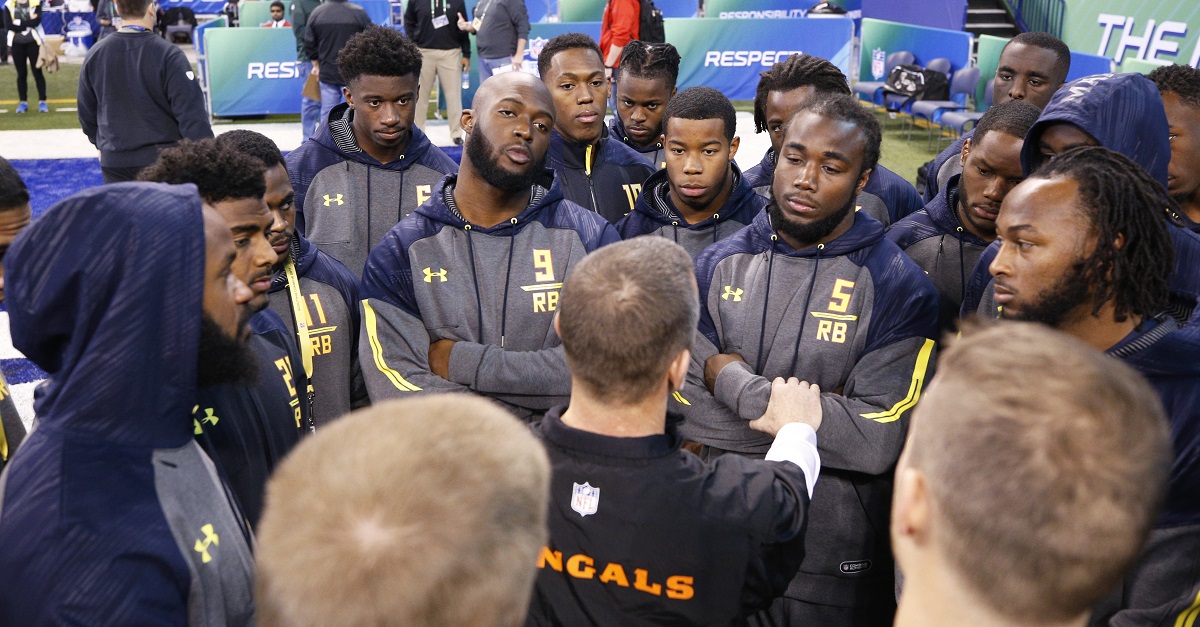 Joe Robbins/Getty Images
INDIANAPOLIS, IN - MARCH 03: Running backs Leonard Fournette of LSU and Dalvin Cook of Florida State listen with a group of players during the NFL Combine at Lucas Oil Stadium on March 3, 2017 in Indianapolis, Indiana. (Photo by Joe Robbins/Getty Images)
We are just a couple of weeks away from the 2017 NFL Draft, which means more and more mock drafts are coming out with some guys' stock rising while others is falling.
Rotoworld's Josh Norris released his latest mock draft Monday, and it's maybe the most-interesting mock draft yet. In it, Norris has both Florida State's Dalvin Cook and Stanford's Christian McCaffery falling out of the first round of the draft entirely.
The running backs who made the cut were Leonard Fournette at No. 4 to the Jacksonville Jaguars, and this was a stunner, Tennessee's Alvin Kamara going to the New Orleans Saints at No. 32.
Here's what Norris had to say about Kamara:
"32. New Orleans Saints (via NE) – RB Alvin Kamara, Tennessee – Surprise. The NFL likes Kamara more than those of us on the outside. This could obviously be a number of other backs, but the point is to note the Saints need for another ball carrier, and one who catches passes."
While a lot has been debated about the quarterbacks in the 2017 draft class, the running backs have been just as hard to get a read on as to where they might all end up.
Still, it seems very unlikely that only Fournette and Kamara end up being taken in the first round of the draft this month, but it would be very interesting.