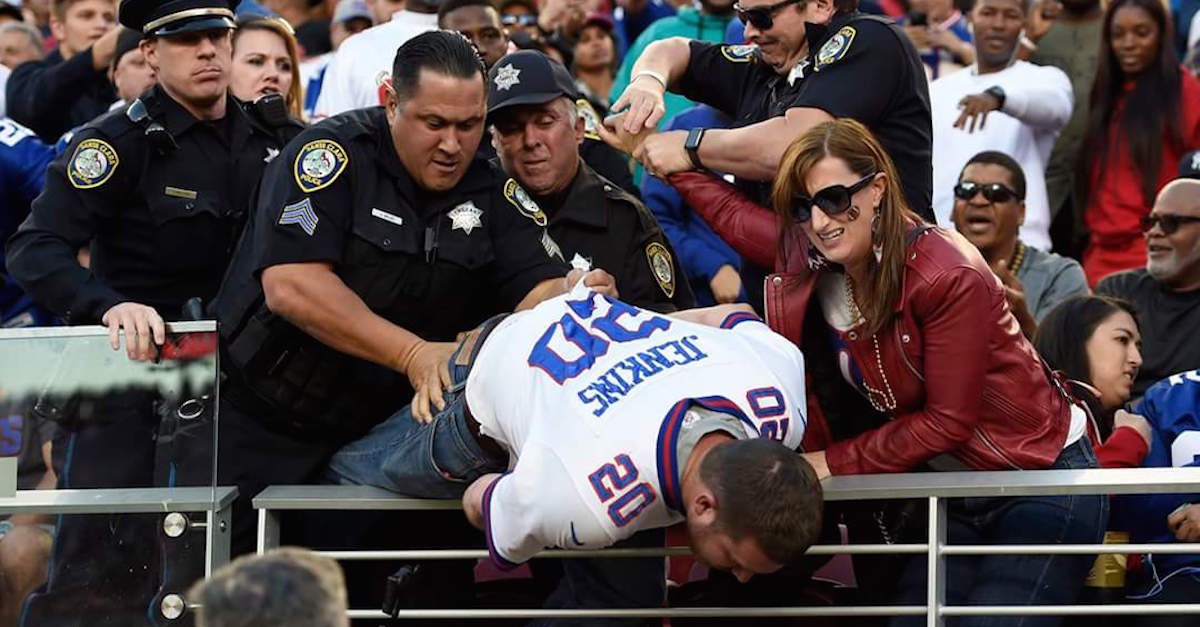 @Jaggypie/Twitter
@Jaggypie/Twitter
A New York Giants fan will face multiple felony charges for his involvement in an at Levi's Stadium last week, according to the New York Post.
Patrick Flynn, a 29-year-old from Brighton, Massachusetts, is being accused of causing an altercation by heckling, which eventually led to him being forcibly removed by seven police officers and kicked out of the stadium during the fourth quarter of the Giants' 31-21 loss to the San Francisco 49ers last week.
Flynn faces felony charges of battery on a police officer causing injury and resisting arrest, as well as misdemeanor counts of battery on a police officer, according to the Santa Clara Police Department's arrest records. He is currently incarcerated in the Santa Clara County Jail on $40,000 bail, but is scheduled to appear in a San Jose area court on Wednesday, NBC Bay Area reported after obtaining county jail records.
Flynn's brother, Kyle, a 26-year-old from Arlington, Virginia, and Lauren Alcatraz were also arrested for their involvement in the melee, according to the station's report.
The younger Flynn was accused of suspicion of one misdemeanor count of obstruction of justice and public drunkenness, according to arrest records.
Alcatraz was charged with a misdemeanor count of obstruction of justice, according to NBC Bay Area.
Santa Clara police Capt. Wahid Kazem claimed that the fans were warned for their behavior prior to their arrests, which took place in the first and second rows above the New York's sideline. According to video footage of the incident, Flynn is shown resisting arrest as cops attempted to take him out of the stadium. A witness also told NJ.com that the 29-year-old attempted to "spit on" one of the officers, which caused both parties to tumble onto the field.
According to the report, authorities pinned Flynn down and placed him in handcuffs before walking him out of the stadium alongside a female companion. Flynn suffered a bloody nose and had cuts on both sides of his face, according to a witness.
"Their actions were determined to be in violation of the stadium's code of conduct policy," Kazem told NBC Bay Area.
A responding officer was injured during incident and was transported to a nearby hospital, before being released hours later, according to Kazem.