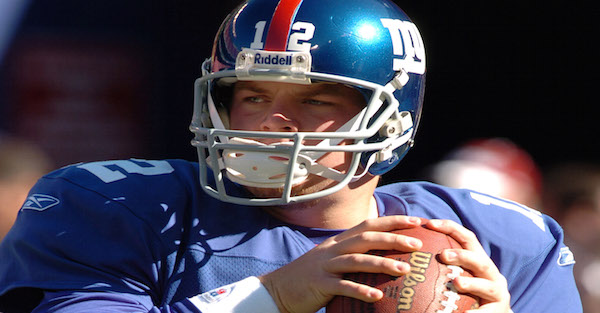 New York Giants backup quarterback #12 Jared Lorenzen warms up before the start of the game against the Washington Redskins at Giants Stadium in East Rutherford, New Jersey on October 30, 2005. The Giants won 36 - 0.
While quarterback Geno Smith is out thanks to a broken jaw, the New York Jets will be relegated to picking from Ryan Fitzpatrick and Bryce Petty for the starting gig.
Well, the backup of Eli Manning from the Giants' Super Bowl XLII win is in the market for another job.
"Hefty Lefty" played in the NFL and Indoor Football League, and he'd certainly be an interesting candidate for what's one of the more dysfunctional teams in the league.