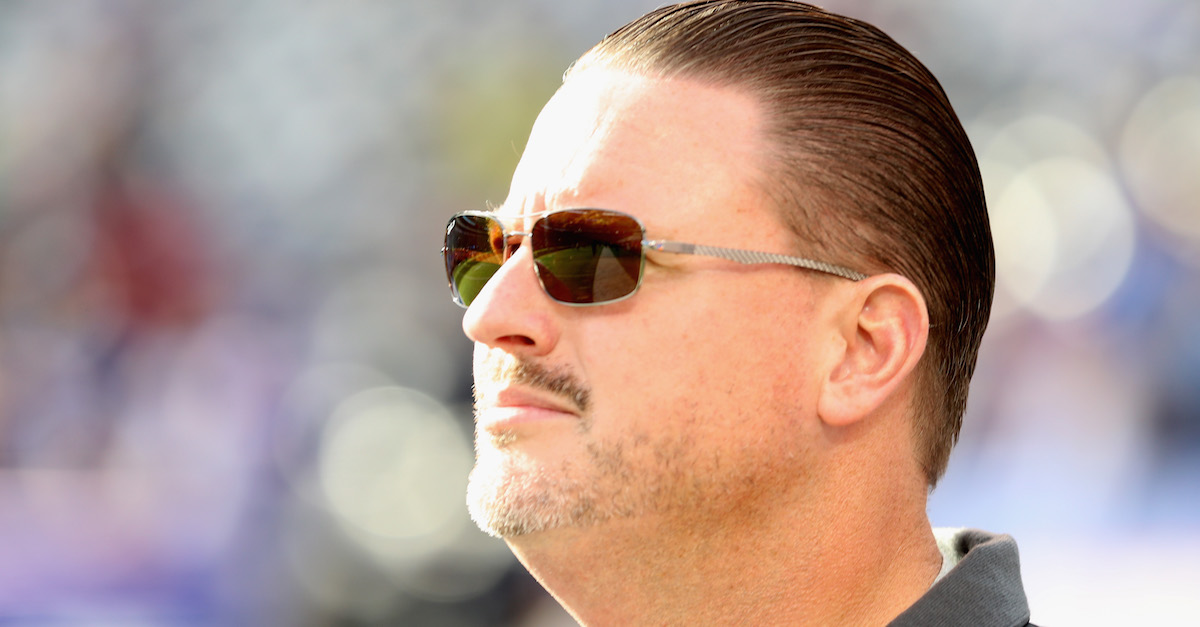 Abbie Parr/Getty Images
EAST RUTHERFORD, NJ - OCTOBER 22: Head coach Ben McAdoo of the New York Giants looks on before the the game against the Seattle Seahawks at MetLife Stadium on October 22, 2017 in East Rutherford, New Jersey. (Photo by Abbie Parr/Getty Images)
Where did it go wrong for the New York Giants?
After dropping some pretty pennies in the 2016 NFL offseason, New York made a run to the playoffs with a vastly improved defense before falling short against the Green Bay Packers.
So, when the time came for the 2017 NFL season, many expected the Giants to be Super Bowl contenders.
Odell Beckham Jr. was on the verge of becoming the highest-paid wide receiver in the NFL and was going to put up historic numbers thanks to all the looks Brandon Marshall's presence was going to allow him to get. Sterling Shepard and Evan Engram were going to help support the passing game by sneaking in behind the defense when OBJ and Marshall demanded all the attention. And Landon Collins was going to make a run at claiming the title of "Best Safety in the NFL."
But somehow, a 1-8 record snuck up on them — much like a lonely little cigarette you let fly out your driver's side window, only for it to sneak back through your rear window and light your backseat on fire.
OBJ and Marshall went down. Eli Manning has struggled. The running game has been absent. And who's at the core? Ben McAdoo, the head coach … for now. Despite plenty of rumors surrounding McAdoo's job — and anonymous Giants players claiming he's lost the locker room — New York Giants co-owners John Mara and Steve Tisch aren't ready to give McAdoo the hook just yet.
"We are in the midst of an extremely disappointing season," the owners said in a statement. "Our performance this year, particularly the past two weeks, is inexcusable and frustrating. While we appreciate that our fans are unhappy with what has occurred, nobody is more upset than we are."
Their plan is to re-evaluate at the end of the season, and that's respectable. After all, the Giants' new goal should be confirming a top-five draft pick to eventually draft Manning's replacement from a pool of talented quarterback prospects this spring.
But if you're a gambler, you'd be wise to take your chips off McAdoo's tenure continuing past February.
[h/t FOX Sports]