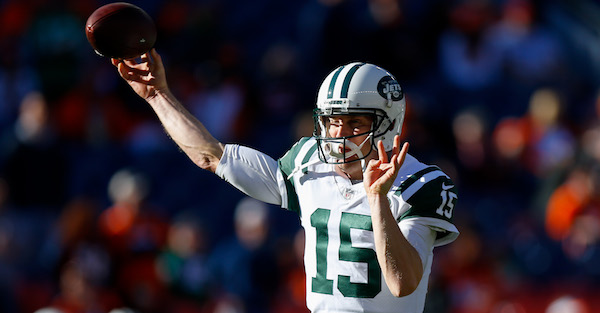 Justin Edmonds/Getty Images
DENVER, CO - DECEMBER 10: Quarterback Josh McCown #15 of the New York Jets warms up before a game against the Denver Broncos at Sports Authority Field at Mile High on December 10, 2017 in Denver, Colorado. (Photo by Justin Edmonds/Getty Images)
Despite being 38, New York Jets quarterback Josh McCown is coming off one of the best seasons of his career in 2017.
McCown threw for a career-high 18 touchdowns and 2,926 yards this season for the Jets, and he had a quarterback rating of 94.5, which is second best for his career. He has indicated that he would like to play in 2018 and would prefer to return to the New York Jets next season.
McCown broke his left hand during a Week 14 game against the Denver Broncos, and that sidelined him for the rest of the season.
Here's McCown discussing his injury and his desire to play football for another season.
"I enjoyed my season [with the Jets]," McCown said via Rotoworld. "It's a special place from the ownership down. I enjoyed my time with Coach [Todd] Bowles. A lot of decisions have to be made within the next few months, but I loved being there, and we'll see how it plays out."
McCown signed a one-year, $6 million deal before the 2017 season, so he would be a relatively cheap option for the team if they wanted to bring him back. They'll likely draft a quarterback since it doesn't appear Bryce Petty or Christian Hackenberg will be the face of the franchise, but McCown could start for at least some of the season while they groom the QB they draft.
The journeyman QB has played for the Jets, Cleveland Browns, Tampa Bay Buccaneers, Chicago Bears, San Francisco 49ers, Carolina Panthers, Miami Dolphins, Oakland Raiders and Detroit Lions. He was drafted by the Arizona Cardinals in the third round of the 2002 NFL Draft out of Sam Houston State, and he spent four seasons with the Cardinals.