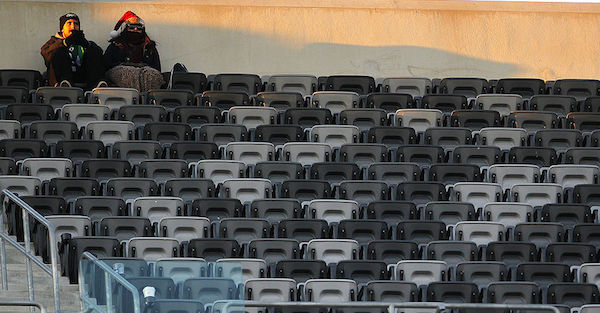 Rich Schultz /Getty Images
EAST RUTHERFORD, NJ - DECEMBER 23: during a game at MetLife Stadium on December 23, 2012 in East Rutherford, New Jersey. (Photo by Rich Schultz /Getty Images) *** Local Caption ***
The New York Jets finished 5-11 in 2016, but darker times might be on horizon for the franchise.
NFL analyst Daniel Jeremiah tweeted something an NFL executive told him about the Jets' roster, and it doesn't sound very promising.
Related: Just how bad potential starting QB Christian Hackenberg has been is horrible news for the Jets
The Jets have woes all over the place. The quarterback trio of Josh McCown, Bryce Petty, and Christian Hackenberg may be the league's worst. The team is also purging itself of veterans, cutting linebacker David Harris, Darrelle Revis (no surprise since he's washed up), Nick Folk, Brandon Marshall, Nick Mangold and Calvin Pryor.
It appears as if the Jets will have no choice but to tank for a quarterback at the top of 2018 NFL Draft.
Jets coach Todd Bowles is entering his third season with the team, and his job might be in jeopardy at the end of the 2018 season. Bowles led the Jets to a 10-6 record during his first season in 2015 followed by last year's 5-11 campaign.
If the Jets are drafting at the top of next year's draft, Bowles might not be in charge of making the decision.