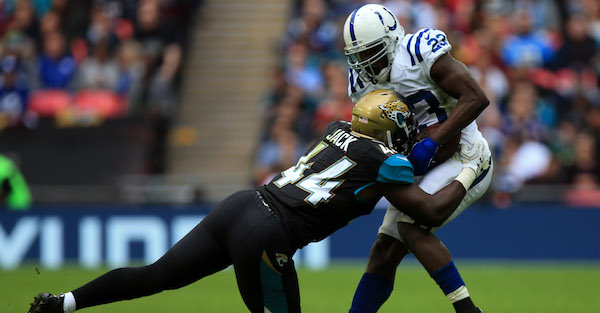 Ben Hoskins/Getty Images
LONDON, ENGLAND - OCTOBER 02: Frank Gore of Indianapolis is tackled by Myles Jack of Jacksonville during the NFL International Series match between Indianapolis Colts and Jacksonville Jaguars at Wembley Stadium on October 2, 2016 in London, England. (Photo by Ben Hoskins/Getty Images)
The fine people of Florida have plenty to be excited about when it comes to standout Jacksonville Jaguars rookie linebacker Myles Jack.
Unfortunately, a poorly placed "off" ruined what could have been a frame-worthy newspaper clipping of the standout's first start.
Jack has appeared in four games this season, registering six tackles. The second-round pick exploded for four tackles in his first start for the Jags in London against the Indianapolis Colts.