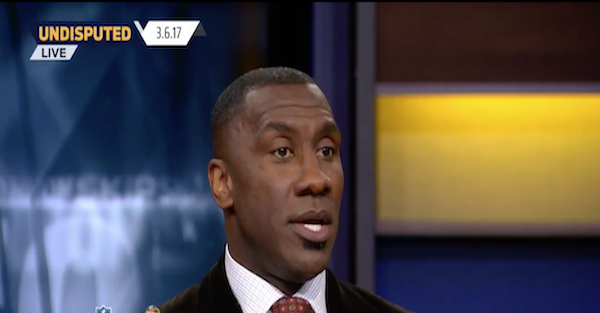 Twitter Screen Shot
Former Stanford running back Christian McCaffrey had a standout performance at the NFL Combine, and Fox Sports analyst Shannon Sharpe thinks McCaffrey would be a top 10 pick in the upcoming draft… if he was black.
Related: Wilbon: Stanford's McCaffrey won't win the Heisman because of race 
Sharpe made his comments on FS1's Undisputed.
Sharpe went on to cite some of McCaffrey's impressive numbers at the combine, including his 6.57 time in the three-cone drill, which was the second-fastest by any running back at the combine since 2003. McCaffrey also posted the second-highest vertical jump of any running back in this class, and he ran a 4.48 in the 40-yard dash.
Sharpe also brought up McCaffrey's impressive numbers rushing and receiving at Stanford, and said the only reason he won't be drafted in the top-10 is because he's white, and white running backs aren't exactly prevalent in the NFL.
McCaffrey rushed for 1,603 yards and 13 touchdowns and caught 37 passes for 310 yards and three touchdowns last season for Stanford.
Related: Shannon Sharpe brings race into the conversation involving arrest of a former Heisman finalist 
It should also be noted that Sharpe played alongside McCaffrey's father, Ed, with the Denver Broncos from 1995-99 and during the 2002-03 season.