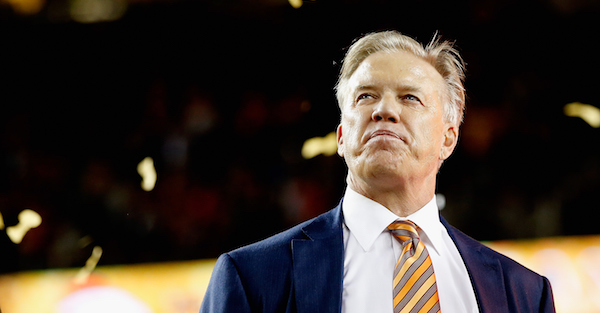 SANTA CLARA, CA - FEBRUARY 07: General Manager John Elway of the Denver Broncos looks on after their win over the Carolina Panthers during Super Bowl 50 at Levi's Stadium on February 7, 2016 in Santa Clara, California. (Photo by Ezra Shaw/Getty Images)
Teams got caught overpaying for players in free agency all the time. Only in this instance, the player, who happens to be his own agent, is the one who got worked big time.
Offensive tackle Russell Okung inked a five-year, $48 million deal with the Denver Broncos — one that has no guaranteed money and could turn into the bargain of the century for the defending champs.
"It's horrible," ESPN's John Clayton said on 710 ESPN Seattle, via mynorthwest.com. "It's now starting to be regarded as maybe the worst contract for a sub-30, Pro Bowl-caliber player ever done in free agency."
Here's a bit about Okung's injury history and how the first year of the contract pays out, via mynorthwest:
"Okung, who is coming off shoulder surgery and has a history of ankle and leg issues, first has to be active in a team workout before he sees any money. That will account for $1 million. Another $2 million will come in the form of a bonus if he makes Denver's 53-man roster, and he would then have a $2 million base salary for 2016. He'll have a chance to make another $3 million through incentives tied to playing time."
He has certainly bet on himself with the way his contract is constructed.