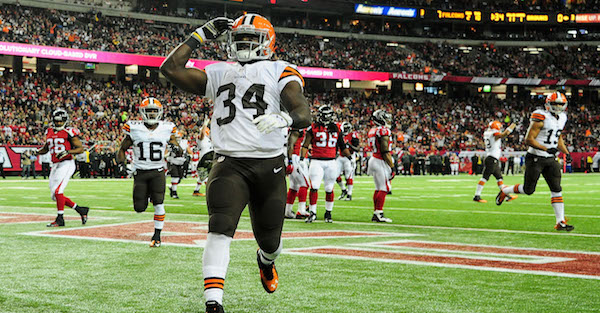 ATLANTA, GA - NOVEMBER 23: Isaiah Crowell #34 of the Cleveland Browns celebrates a touchdown in the first half against the Atlanta Falcons at Georgia Dome on November 23, 2014 in Atlanta, Georgia. (Photo by Scott Cunningham/Getty Images)
Cleveland Browns and former University of Georgia running back Isaiah Crowell posted, then deleted an Instagram post depicting a police officer being stabbed in the neck. He has since apologized in a team-issued statement.
The team has since responded, via ESPN:
"We have spoken to Isaiah regarding his extremely disturbing and unacceptable social media decision. It was completely inappropriate and we have made him aware of our high level of disappointment," the team said in a written statement. "Isaiah has apologized but also knows that just an apology is insufficient and that he must take steps to make a positive difference after a very negative and impactful post."
While the Browns are clearly disappointed, the team is not expected to release Crowell, per Cleveland.com.
The deleted image below is extremely graphic, which some may find disturbing:
The NFL has also released a statement, via ESPN:
"The image was inappropriate and insensitive. He realized this, took down the post and has since apologized."
Here was the statement Crowell released with the Browns, per Cleveland.com.
"Last week was an emotional and difficult week as we saw extreme acts of violence against black men across our country as well as against police officers in Dallas," Crowell wrote, in a statement released by the Browns.

"I posted an image to Instagram in the midst of that emotion that I shouldn't have and immediately removed it. It was an extremely poor decision and I apologize for that mistake and for offending people. My values and beliefs do not match that image."
Crowell released the image after the deaths of Alton Sterling and Philando Castile, but before five Dallas officers were killed following a peaceful protest.
"I am outraged and upset by the deaths of Alton Sterling and Philando Castile along with so many others. I am also outraged and saddened by the attacks in Dallas and the deaths of the 5 honorable police officers (Lorne Ahrens, Michael Krol, Michael J. Smith, Brent Thompson and Patrick Zamarripa) who were providing protection while trying to keep peace. We have to be better as a society, it's not about color, it's about what's right and wrong.

"I was very wrong in posting that image. Every single life matters, every death as a result of violence should be treated with equal outrage and penalty."
NFL guidelines gives teams authority to develop social media guidelines for its players, per USA Today:
"The guidelines should address four points, according to a statement from NFL spokesman Brian McCarthy. The league says statements on social media should be "professional, accurate, and consistent with the NFL and club's mission values" and should not reveal game strategy, injury information or personal information about a player.

The guidelines also say statements displaying obscenity or criticism of officiating, opposing players, owners, coaches, fans or threatening comments are subject to discipline. However, the amount of possible fines is never mentioned. And though it has been proven players can criticize each other through social media without consequence, some teams are asking players to refrain from voicing out on current issues."
There has been no announcement from the league or the team regarding possible fines or suspensions.