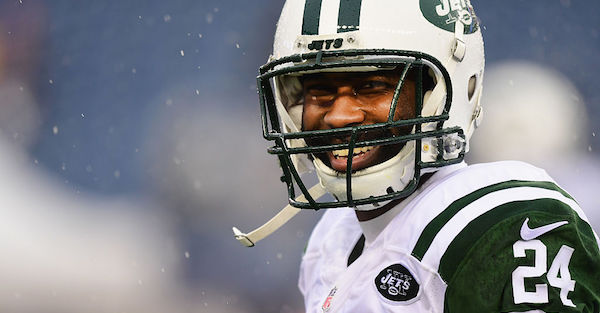 Billie Weiss/Getty Images
FOXBORO, MA - DECEMBER 24: Darrelle Revis #24 of the New York Jets reacts before a game against the New England Patriots at Gillette Stadium on December 24, 2016 in Foxboro, Massachusetts. (Photo by Billie Weiss/Getty Images)
Former All-Pro cornerback Darrelle Revis remains a free agent deep into the offseason, and there doesn't appear to be many landing spots for the soon-to-be 32-year-old.
Sporting News columnist Vinnie Iyer said the only team that might work for Revis is the Dallas Cowboys, though that's iffy.
"It's one contending team that could use more experienced depth at defensive back," Iyer said. "It's also the team that likes taking flyers on veteran big names, regardless of what may have happened off the field."
The off-the-field remark stems from an incident in Pittsburgh in which two men claimed Revis assaulted them. During testimony, Revis' friend said he was the one who threw punches during the alteration, so the changes against Revis were later dropped.
Related: Super Bowl contender is openly interested in declining DB Darrelle Revis
On the field, Revis had the worst year of his career in 2016 with the New York Jets. The Jets released Revis in the offseason, only two years into a 5-year, $70 million deal.
The Jets still owe Revis $6 million, so whatever deal he signs for next year will offset some of that money owed.
The New England Patriots were expected to be in the mix to sign Revis given his short but successful tenure in Foxborough, but with Malcolm Butler and Stephon Gilmore at corner, there isn't much room for Revis on the field.
Iyer also noted that the Cowboys run a zone coverage scheme, and Revis didn't adapt too well to that while playing for the Tampa Bay Buccaneers. His style of play is better suited for a man-to-man defense, but his declining ability prohibited him from being a quality player last season.
The Cowboys could still take a chance on Revis after losing Brandon Carr and Morris Claiborne in the offseason. If they don't sign Revis, his free agency might last until the fall.
(h/t All 22)