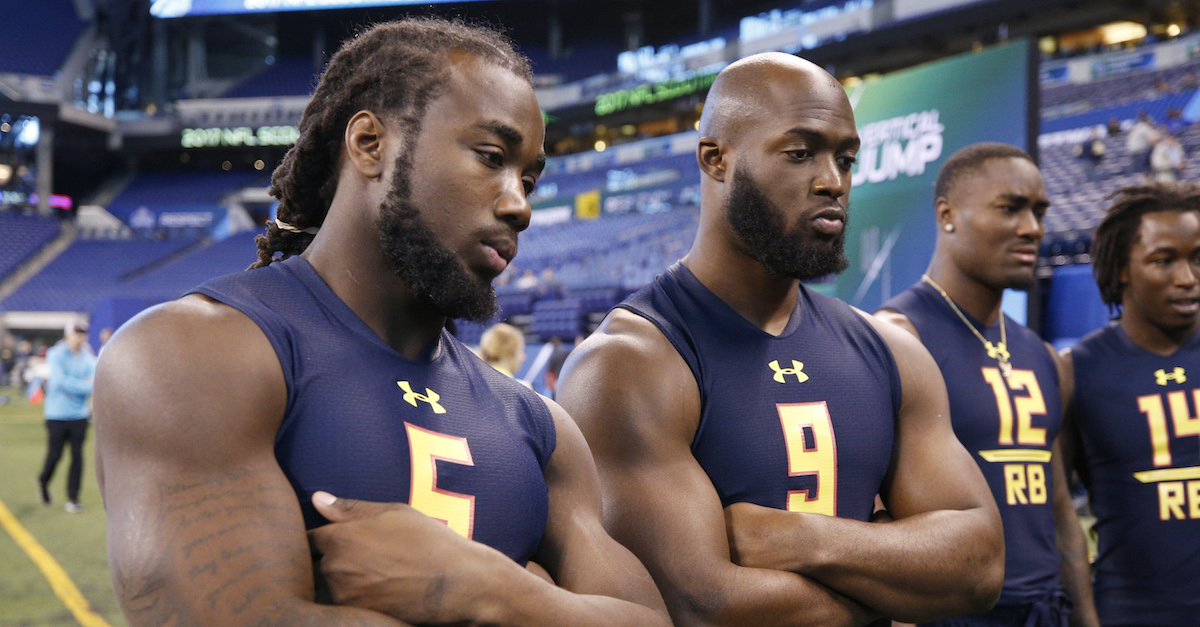 INDIANAPOLIS, IN - MARCH 03: Running backs Dalvin Cook of Florida State and Leonard Fournette of LSU look on during the NFL Combine at Lucas Oil Stadium on March 3, 2017 in Indianapolis, Indiana. (Photo by Joe Robbins/Getty Images)
CBS Sports got an interview with one NFL executive who is picking in the top ten of this year's NFL Draft and his top ten picks are quite the doozy. He's got some of the normal names we've seen at the top likes Myles Garrett and Leonard Fournette, but some there's one in particular that is pretty insane. Here's the list he gave CBS Sports:
Myles Garrett – Browns
Marshon Lattimore – 49ers
Jamal Adams – Bears
Leonard Fournette – Jaguars
Mike Williams – Titans
Mitch Trubisky – Jets
Jonathan Allen – Chargers
Christian McCaffrey – Panthers
Reuben Foster – Bengals
Malik Hooker – Bills
RELATED: Stock for Dalvin Cook plummeting based on one recent mock draft
While Mike Williams might be a bit of a reach — most people have him going 10 or later — Christian McCaffrey is the biggest surprise considering so many people think that Florida State's Dalvin Cook is the better running back. It's also incredibly high for a Panthers team that could use a cornerback at that slot more than a running back.
Whilie McCaffrey proved he can do just about everything, some teams would undoubtedly like to avoid another Peyton Hillis situation and there are likely some teams that just legitimately like Cook more than McCaffrey at that point in the draft.
[h/t 247Sports]