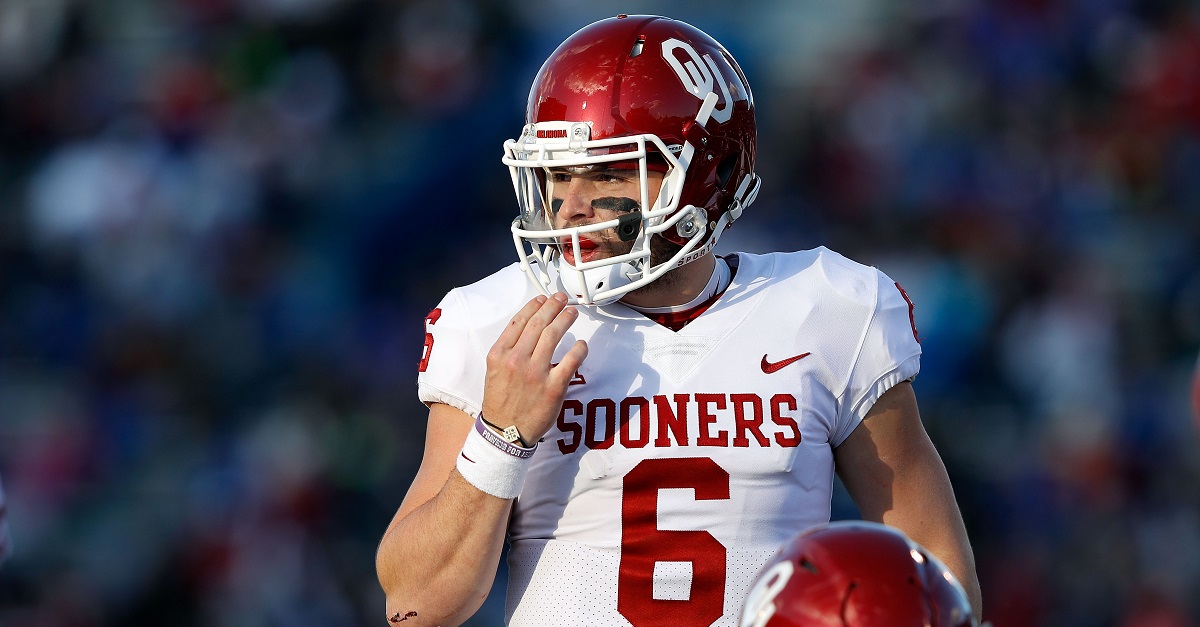 Jamie Squire/Getty Images
LAWRENCE, KS - NOVEMBER 18: Quarterback Baker Mayfield #6 of the Oklahoma Sooners prepares to take a snap during the game against the Kansas Jayhawks at Memorial Stadium on November 18, 2017 in Lawrence, Kansas. (Photo by Jamie Squire/Getty Images)
Baker Mayfield was recognized as the best player in college football this season and the Oklahoma quarterback was presented with the Heisman Trophy for his efforts. With that said, not everyone is sure that Mayfield is a franchise-altering player at the NFL level, to the point where at least two quarterbacks (UCLA's Josh Rosen and USC's Sam Darnold) are seen by the consensus as prospects with higher upside than Mayfield presents.
With that in mind, Daniel Jeremiah of NFL.com put together a round-up of NFL executives in choosing between Mayfield and Wyoming's Josh Allen, with something of a split in Mayfield's favor. Still, the headliner of the exercise just might be the executive that compares Mayfield to a future Hall of Fame signal-caller.
One of the executives indicated that he sees "a lot of Drew Brees in Baker Mayfield," even while noting the different demeanors in the two players. Of course, some of that is probably height-related, as Brees is on the (very) short list of established NFL quarterbacks with similar statures to Mayfield. In the same breath, comparing any soon-to-be NFL player to one of the best of the best is high praise and this should be taken as such.
Mayfield probably won't reach Brees' level in terms of overall success, simply because that is a very tough bar to clear. He might be a terrific player, though, and NFL teams will be making evaluations in the coming days.