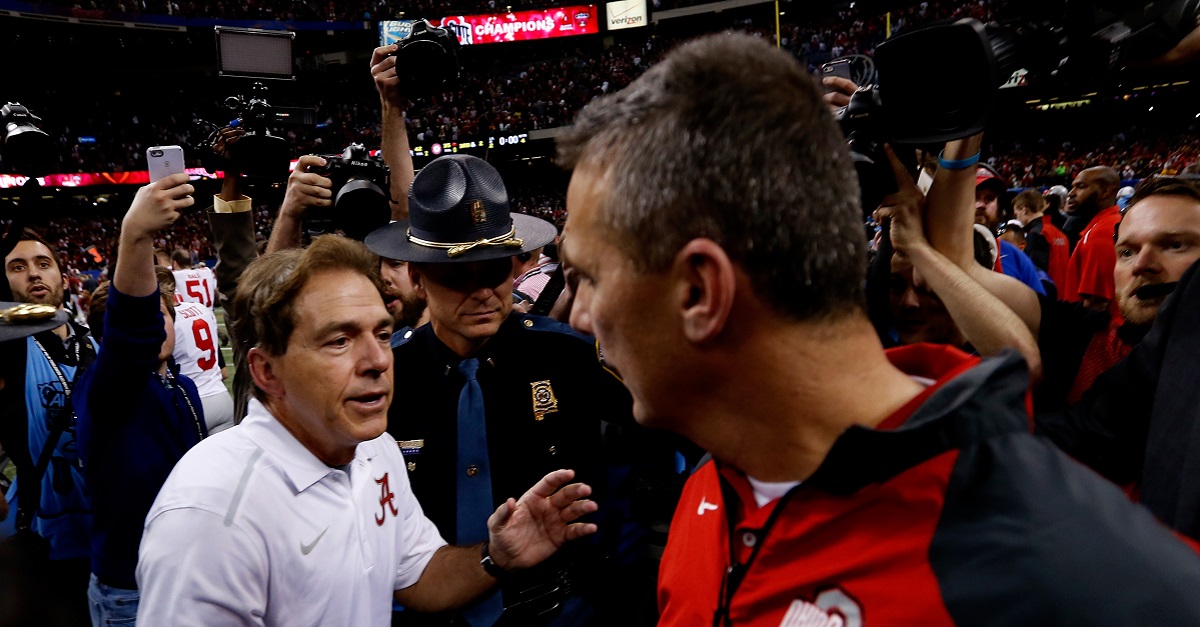 Sean Gardner/Getty Images
NEW ORLEANS, LA - JANUARY 01: Head coach Urban Meyer (R) of the Ohio State Buckeyes shakes hands with head coach Nick Saban (L) of the Alabama Crimson Tide after the All State Sugar Bowl at the Mercedes-Benz Superdome on January 1, 2015 in New Orleans, Louisiana. The Ohio State Buckeyes defeated the Alabama Crimson Tide 42 to 35. (Photo by Sean Gardner/Getty Images)
The Baltimore Ravens have remained one of the most consistent franchise in the NFL since Ozzie Newsome has been the team's general manager. The former Alabama Crimson Tide star has also drafted five Crimson Tide stars under his watch in Baltimore — most of which have been in the first round.
Drafting a number of players from the most-successful college football program of the last decade isn't the most-outlandish strategy, but Newsome opened up about why he has felt comfortable investing in so many Crimson Tide players over the years.
Via SaturdayDownSouth:
"Nick does a very good job of molding those players into becoming complete players," Newsome said. "They understand what hard work is, they understand what preparation is and they understand about competing at a very high level. So when you get one of those players, instead of having to put them through the process for them to get to that level, they already have played at that level. And it's like it was when I was there: If you don't play and compete, you probably don't get the opportunity to play. So they're accustomed to playing against and practicing against players of their equal."
Newsome's logic makes a lot of sense, especially when you consider how competitive it is just to get playing time at a program like Alabama that has piled elite recruiting class after elite recruiting class.
Newsome will have the opportunity to draft another Crimson Tide star in the first round of the 2017 NFL Draft, so it will be interesting to see if he picks up where he left off.