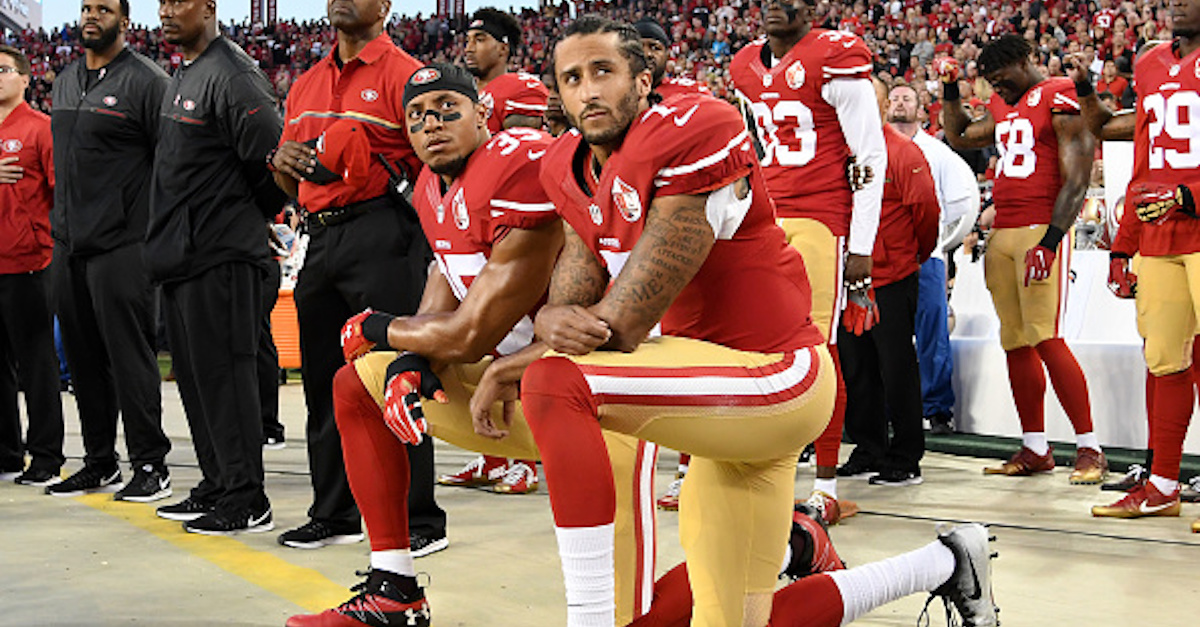 Thearon W. Henderson/Getty Images
SANTA CLARA, CA - SEPTEMBER 12: Colin Kaepernick #7 and Eric Reid #35 of the San Francisco 49ers kneel in protest during the national anthem prior to playing the Los Angeles Rams in their NFL game at Levi's Stadium on September 12, 2016 in Santa Clara, California. (Photo by Thearon W. Henderson/Getty Images)
Virtually everyone has weighed in on Colin Kaepernick's continued unemployment at this point but, on Friday, Kristian Dyer of the Sporting News interviewed an anonymous NFL general manager and his words are making waves across the league. Within the interview, the general manager referenced several reasons why his team chose not to pursue Kaepernick, including a lack of "maturity."
"The kid is talented enough to play in this league. He is a Super Bowl quarterback for a reason. But it's the handling of the situation.  It makes you pause. Kap has made some bad judgments in the past. You look at this, how he's embraced the firestorm around him. He's become a distraction in a place where winning is foremost. It is an issue of mentality, personality. I think it boils down to maturity.

"Why would you bring in a guy who could split a locker room? As a quarterback, you're supposed to be a leader, the one guy who can bridge divides. I'm not sure Kap is that guy right now."
While the front office executive indicated it "has nothing to do with his play" on the field, that didn't stop him from referring to Kaepernick as a "distraction" and condemning his public statements.
"I have no comment on his views or convictions. Those are his own and I don't think a team would sign him or not sign him solely over those actions. My caution — and I think it is echoed by nearly everyone I've talked to — is that he's become a distraction. At this point, the way he's handled it, the way he's tweeting and all that garbage, it doesn't help."
This is not going to be received well (and already isn't) but it likely reflects the views of at least some portion of the NFL world. It remains to be seen just how long Kaepernick will be on the outside looking in but this sentiment from the highest level of front office management is certainly relevant.
Kaepernick has been unemployed by the NFL since he and the San Francisco 49ers agreed to part ways earlier this year. Teams like the Seattle Seahawks and Baltimore Ravens have reportedly expressed interest in Kaepernick, but he remains unsigned by an NFL team as of press time.