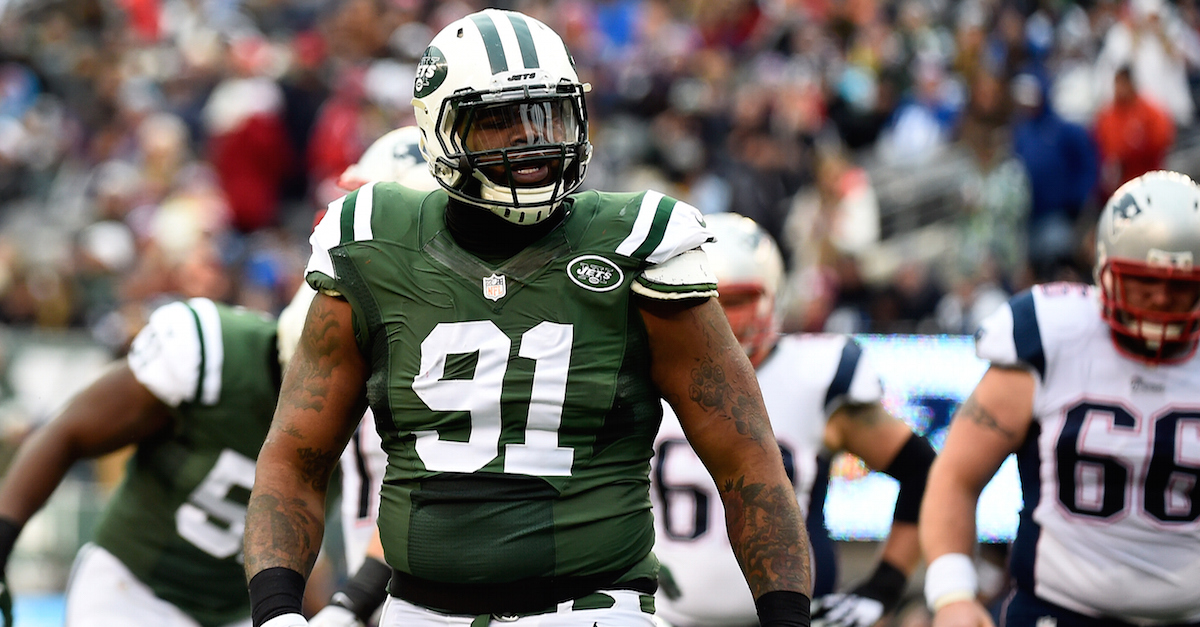 EAST RUTHERFORD, NJ - DECEMBER 21: Defensive end Sheldon Richardson #91 of the New York Jets celebrates after sacking quarterback Tom Brady #12 of the New England Patriots during a game at MetLife Stadium on December 21, 2014 in East Rutherford, New Jersey. (Photo by Alex Goodlett/Getty Images)
Just a few days before the long holiday weekend, the NFL got some business out of the way, handing down two four-game suspensions to star players.
First, New York Jets defensive lineman Sheldon Richardson received a four-game suspension:
In two seasons, the 6'3″, 294-pound Richardson has recorded 84 tackles, 11.5 sacks and two forced fumbles.
Here was his response, via Mike Garafolo:
Sheldon Richardson statement via the Jets: ?I apologize for letting down my family, teammates, this organization and the fans. However, words aren't enough. This is something that can only be addressed by how I handle myself from this point on. I don't want this to take away from what the team is trying to accomplish. While I won't be there at the start of the regular season, I will do whatever I can to support my teammates until I'm able to return to the field.?
Later, the NFL handed down a four-game suspension to Dallas Cowboys linebacker Ronaldo McClain:
The 6'3″, 254-pound McClain had 242 tackles over his four-year NFL career, with 7.5 sacks and three interceptions.
Here was McClain's response, per NFLPA:
"I apologize to my family, the Cowboys organization, my teammates and Cowboys fans for my mistake. I will not break the rules of my profession in the future, and I regret my error. I look forward to returning to the field on week 5, when I hope to help my team beat the Patriots."
Richardson will return for the team's bye week before playing against the Washington Redskins in Week 6, while McClain will return in Week 5 against the defending NFL Champion New England Patriots.