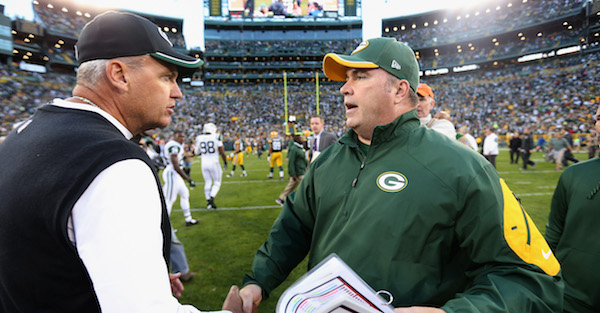 Christian Petersen/Getty Images
GREEN BAY, WI - SEPTEMBER 14: (L-R) Head coaches Rex Ryan of the New York Jets and Mike McCarthy of the Green Bay Packers shake hands following the NFL game at Lambeau Field on September 14, 2014 in Green Bay, Wisconsin. The Packers defeated the Jets 31-24. (Photo by Christian Petersen/Getty Images)
It looks like we've got a double-whammy of coach firings courtesy of the Buffalo Bills
NFL insiders Ian Rapoport and Adam Schefter are reporting that the Bills have fired head coach Rob Ryan and assistant head coach Rex Ryan.
Rex had been the Bills' head coach for almost two seasons, while Rob had joined the staff this year. However, it now looks like the Ryan brothers will both be looking for other jobs as the NFL coaching carousel starts to pick up.
The move comes after the Bills find themselves at 7-8 this season after a 4-2 start to the year. The tension with Rex Ryan has been growing for a few weeks, and it looks like management in Buffalo decided to pull the trigger on Tuesday after a loss in overtime on Saturday to Miami.