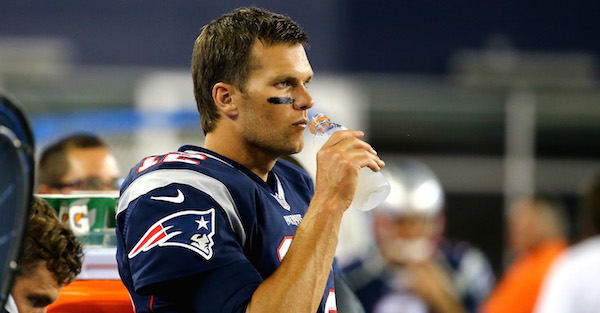 Maddie Meyer/Getty Images
FOXBORO, MA - AUGUST 13: Tom Brady #12 of the New England Patriots looks on from the bench in the second quarter against the Green Bay Packers during a preseason game at Gillette Stadium on August 13, 2015 in Foxboro, Massachusetts. (Photo by Maddie Meyer/Getty Images)
This is the equivalent of, politely, calling B.S.
The NFL refuted Gisele Bundchen's claim that her husband, Tom Brady, had a concussion last season.
That was part of a longer statement that said:
Gisele Bundchen's claim set off a frenzy, with TMZ.com reporting that  the NFLPA was looking into the claim.  The NFLA also put out its own statement:
It all started when Gisele Bundchen made the statement on CBS this morning:
She said her husband suffered a concussion last season and "He does have concussions."
RELATED: Tom Brady could make an unusual concession to keep playing.
That's an explosive statement on several fronts. First, on injury reports over the last four years, Brady has never had a concussion listed.
Second, the NFL has been under fire for its handling of concussions, and to its credit, has taken steps to make sure players that exhibit any signs are treated immediately and aggressively. There would be a ton of questions if the league's most viable player was someone able to skirt those requirements.
The New England Patriots had no comment.
ESPN's Bomani Jones added some more perspective:
Brady, the five-time winning Super Bowl quarterback, hadn't missed a game since 2008, when he went down with a knee injury in the opening contest of the season and missed 15 games.