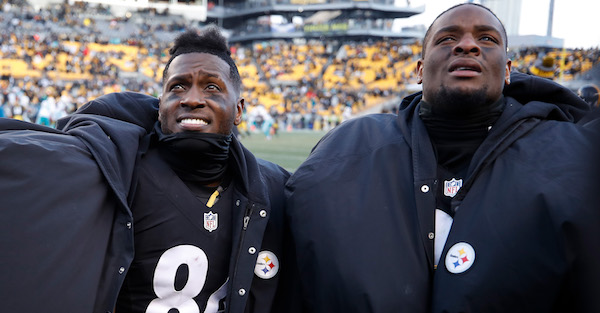 Gregory Shamus/Getty Images
PITTSBURGH, PA - JANUARY 08: Antonio Brown #84 and Le'Veon Bell #26 of the Pittsburgh Steelers are seen on the sidelines during the fourth quarter against the Miami Dolphins in the AFC Wild Card game at Heinz Field on January 8, 2017 in Pittsburgh, Pennsylvania. (Photo by Gregory Shamus/Getty Images)
Antonio Brown's Facebook Live incident sparked controversy for the Pittsburgh Steelers before they played the New England Patriots, and the star receiver could be on the trading block.
Related: The Antonio Brown Facebook live fiasco has taken another bizarre twist, and he could be in even more trouble
The Facebook Live situation isn't the only thing concerning to the Steelers' organization. According to NFL Network's Aditi Kinkhabwala, Steelers coach Mike Tomlin thinks Brown cares too much about his stats, and he was even "pouting" after DeAngelo Williams scored the first touchdown of the game against the Patriots.
Now, there's some evidence that refutes that Brown was, in fact, pouting, while some believe the Steelers leaked that report in an effort to pave the way for moving Brown out of town. And, Tomlin has now said he never saw Brown pouting.
Brown famously stepped in it when he broadcast the Steelers' locker room celebration on Facebook Live following the team's win over the Kansas City Chiefs in the AFC playoffs. Tomlin, who was unaware of the live broadcast, could be heard using profanity, and he later apologized for his choice of words. NFL.com then reported that Brown has an endorsement deal with Facebook, which may have encouraged him to broadcast from inside the locker room — which violate's team and NFL policy.
Brown has one year left on his contract, and he will assuredly desire to be one of the highest paid?if not the highest paid?wide receiver in the league. The Steelers might at least look and see what they can get in return for Brown, especially since Martavis Bryant returns next season.
(h/t Pro Football Talk)