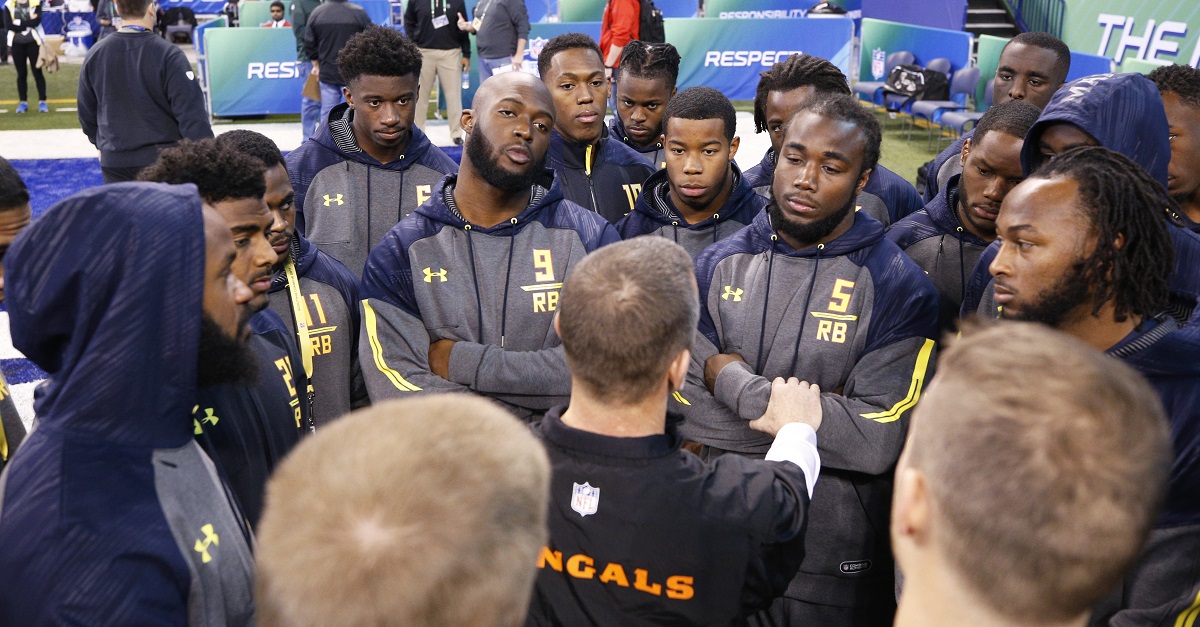 Joe Robbins/Getty Images
INDIANAPOLIS, IN - MARCH 03: Running backs Leonard Fournette of LSU and Dalvin Cook of Florida State listen with a group of players during the NFL Combine at Lucas Oil Stadium on March 3, 2017 in Indianapolis, Indiana. (Photo by Joe Robbins/Getty Images)
Dalvin Cook's stock has been up-and-down throughout the pre-draft process, but ESPN analyst Todd McShay thinks the Tampa Bay Buccaneers could take a chance on him in the first round.
Related: NFL scout: Dalvin Cook is worrying GMs more than Joe Mixon is 
McShay said Cook and Reuben Foster are the two prospects who have slid the most on most draft boards in recent weeks, and that Cook has the potential to slide more than Foster.
However, McShay said the Bucs will "strongly consider" pairing Cook with fellow Florida State alum Jameis Winston if Cook is still available at No. 19.
"The Tampa Bay Buccaneers really like Cook and will strongly consider him if he's on the board at No. 19," McShay said. "The concerns with Cook are who he surrounds himself with, so keeping him in the state of Florida would be a risk, considering that's where he went to college and grew up (Miami)."
The Bucs have Doug Martin at running back, but his production slipped last year due to injury. He is also serving a four-game suspension for failing a drug test.
The combination of Cook, Winston and receiver Mike Evans would be dangerous in the NFC South. Cook will likely be available at that point in the draft, so the Bucs will have a tough decision to make.
(h/t RotoWorld)