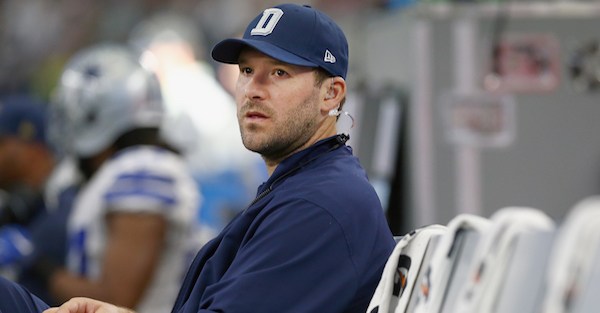 Tom Pennington/Getty Images
ARLINGTON, TX - JANUARY 03: Tony Romo #9 of the Dallas Cowboys sits on the bench late in the fourth quarter as the Washington Redskins beat the Dallas Cowboys 34-23 at AT&T Stadium on January 3, 2016 in Arlington, Texas. (Photo by Tom Pennington/Getty Images)
While the Denver Broncos and Houston Texans continue to grab headlines as possible landing spots for Dallas Cowboys veteran quarterback Tony Romo, ESPN's Ed Werder suggested a possible landing spot if another veteran quarterback steps away from the game:
After fracturing his back and losing his starting job to rookie Dak Prescott while he recovered, Romo played the role of veteran, celebrating and standing on the sidelines with the clipboard.
Roethlisberger has had injury issues of his own, suffering a torn meniscus in his knee during the season, which he played through and missed just two games. Roethlisberger has played all 16 games in just two of the past eight seasons.
In 2015, he suffered a concussion and an MCL sprain during the season. He sprained his shoulder and dislocated a rib in 2012, fractured his finger in 2011, broke his foot and dislocated a joint in his shoulder in 2010 and sprained a joint in his shoulder in 2006. He's been one of the more gutsy players in the league, playing through most of his injuries when possible.
Roethlisberger's Steelers lost to the New England Patriots in the AFC Championship game Sunday evening, 36-17.
Speculation on where Romo heads next remains and rumors have the Broncos as his top choice.