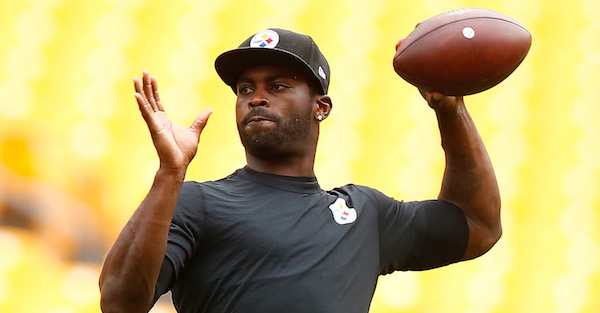 Jared Wickerham/Getty Images
PITTSBURGH, PA - SEPTEMBER 03: Michael Vick #2 of the Pittsburgh Steelers warms up prior to the preseason game against the Carolina Panthers at Heinz Field on September 3, 2015 in Pittsburgh, Pennsylvania. (Photo by Jared Wickerham/Getty Images)
Michael Vick retired from the NFL, but his playing career might not be officially over.
Related: Michael Vick can pinpoint the exact moment he decided to retire 
According to ESPN's Darren Rovell, Vick has agreed to participate in a trial game for the American Flag Football League on June 27.
The American Flag Football League plans to launch an eight-team league in 2018, and they are having a trial game next month at Avaya Stadium in San Jose, California featuring Vick and former running back Justin Forsett.
If the league makes it, each game will be 60 minutes long and will be played on a full length 100-yard field. The game will be 7-on-7.
Financier Jeff Lewis developed the idea, and he told Rovell he thinks it will be easy to find high quality players to fill out the rosters.
"I just thought to myself, 'what would this look like if great athletes played this?'" Lewis said. "There's certainly a huge pool to take guys from. Every single year, NFL teams cut 800 guys. We need less than 100 players to field eight teams."
Instead of Velcro flags, the game will have magnetic flags with sensors that will allow officials to know exactly when the flag was removed.
Lewis said they are still working out the details about how much each player will be paid, but he is considering having a bonus for the player of the game that would be objectively determined by fantasy-style scoring.
Alternatives to the NFL have failed in the past. It will be intriguing to see how many familiar names play in the league if it makes it past the trial phase.
(h/t 247Sports)