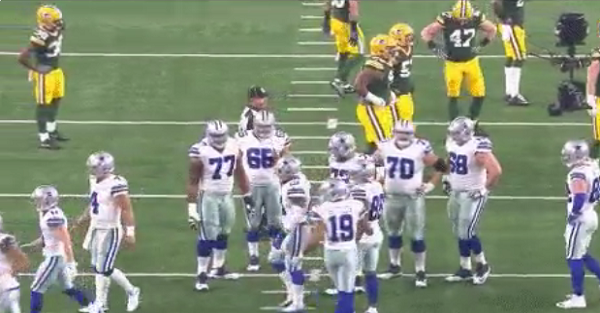 Twitter/@SBNation
During the Dallas Cowboys' loss to the Green Bay Packers in the playoffs, receiver Brice Butler was called for an unsportsmanlike conduct penalty for illegally entering the huddle.
Related: NFL reportedly considering changing rule that completely screwed Cowboys in playoff game 
It was a controversial call at the time, especially because the Cowboys were in scoring range before the penalty.
The NFL decided to make amends to the rule, so now officials have the option to not throw a flag during that particular circumstance.
The rule was designed to prevent offenses from attempting to trick defenses with personnel changes, though it's clear that wasn't the case with the Butler incident.
Thankfully, the NFL made a change to the rule, but the Cowboys are still probably bitter about the flag being called on Butler.
(h/t 247Sports)