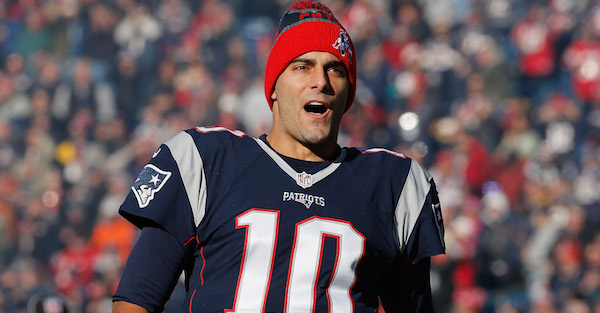 Jim Rogash/Getty Images
FOXBORO, MA - DECEMBER 04: Jimmy Garoppolo #10 of the New England Patriots reacts before the game against the Los Angeles Rams at Gillette Stadium on December 4, 2016 in Foxboro, Massachusetts. (Photo by Jim Rogash/Getty Images)
New England Patriots' backup quarterback Jimmy Garoppolo has been the subject of many trade rumors over the last few months, but those rumors have died down in recent weeks with the Patriots making all kinds of other moves instead.
However, NFL Network analyst Mike Mayock may have reignited those trade rumors in his appearance on ESPN's Mike & Mike radio program Thursday morning.
Here's what Mayock said about Garoppolo via All22:
"All the stuff about Cleveland and Garoppolo, they should be trying to trade for him. … They should be trying to get him. Garoppolo is better than any quarterback in this draft, but it comes back to how Bill (Belichick) feels about (Jacoby) Brissett — whether he has to keep Garoppolo around for at least another year, or whether he feels confident enough to deal him before he loses him next year to free agency."
Mayock is one of the best talent evaluators in the game, so it's very interesting for him to say to say Garoppolo is better than any quarterback in this draft. With the first pick in the 2017 NFL Draft, the Browns could select Mitch Trubisky or DeShaun Watson, but Mayock thinks the team should trade for Garoppolo.
Mayock goes on to say:
Mayock noted, "(Garoppolo) has a year left on his contract and if he wants to be a starting quarterback in the NFL, who knows if Tom Brady is going to last one year or five more. Really the guy that has all the leverage in this, I think is Garoppolo. I think Belichick is a very smart man and he is sitting back there thinking, 'I drafted Brissett in the third round.' And whatever Bill thinks about Brissett — can he be a starting quarterback in 2 years, or not, I think will determine whether or not they deal Garoppolo."
It's also worth noting that Garoppolo's future may be tied to how the Patriots view Brissett as a backup quarterback to Tom Brady. If they're comfortable with him behind Brady for the next couple of seasons, moving Garoppolo will hurt significantly less.
Either way, it is going to be very interesting to see what the Browns and Patriots decide to do over the next couple of weeks.