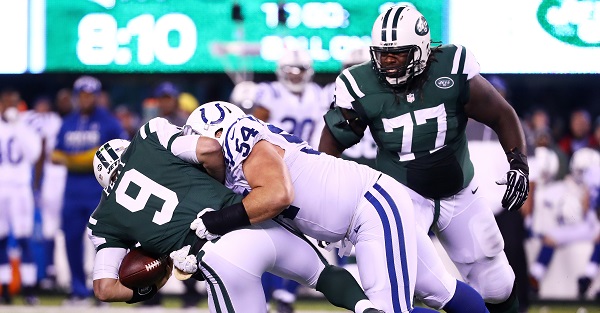 Al Bello/Getty Images
EAST RUTHERFORD, NJ - DECEMBER 05: David Parry #54 of the Indianapolis Colts sacks Bryce Petty #9 of the New York Jets in the third quarter during their game at MetLife Stadium on December 5, 2016 in East Rutherford, New Jersey. (Photo by Al Bello/Getty Images)
David Parry isn't a household name, even for diehard NFL fans. However, the Indianapolis Colts defensive lineman is currently in the news and, to say the least, the reasoning for his sudden infamy isn't ideal.
The Indianapolis Star brings word that Parry was arrested on "suspicion of robbery, auto theft, criminal damage, resisting arrest and driving under the influence" and the incident reportedly went as follows:
Parry, 24, was arrested just after 2:30 a.m. Saturday at an apartment complex in the 6900 block of East Osborn Road in Scottsdale after someone called 911 regarding an assault and auto theft, according to Scottsdale police.

The victim told officers he had picked up three people from a downtown bar in his "transportation cart" ? a street-legal golf cart police say was used as a taxi ? and had dropped two of them off. When he got out of the cart to collect payment, the victim told police the third person, later identified as Parry, hit him on the head and left the scene in the cart.
In addition, TMZ Sports brings forth additional details that include Parry arguing with police in a derogatory and profane way during the encounter.
The incident quickly turned combative — cops say Parry called them "f**king f**gots," and called out some of the officers as, "fat f**k" and "pu**yboy."

He also looked at all the responding officers and told each one individually, "You're a bitch."

One of the cops told Parry he was done talking with him, to which the NFL player responded, "That's what the f**k I thought, bitch — you have nothing on me."
In the aftermath of the incident, the Colts have not released a comment beyond "We are aware of the reports and are gathering more information" but this is a situation that will have to be addressed by the organization with haste. Until then, we are left to wonder what the fallout will be for Parry, both legally and with regard to his occupation.