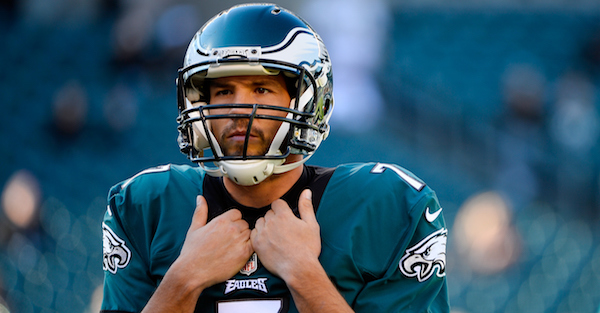 PHILADELPHIA, PA - NOVEMBER 15: Quarterback Sam Bradford #7 of the Philadelphia Eagles looks on while warming-up before the game against the Miami Dolphis at Lincoln Financial Field on November 15, 2015 in Philadelphia, Pennsylvania. (Photo by Alex Goodlett/Getty Images)
Sam Bradford's holdout and insistence on being traded after the Philadelphia Eagles moved up to the No. 2 overall selection for Carson Wentz didn't sit well with some NFL players, namely Seattle Seahawks defensive end Michael Bennett.
Bradford's trade demand wasn't granted, but he made his feelings known in the media.
He had every right to be frustrated by the situation, as he'll play with the understanding that any day he could be supplanted by Wentz. But he went about things the wrong way, showed immaturity and now another NFL player is tossing him under the bus.
Related: The Eagles have sent Sam Bradford a very pointed message
Bennett on the other hand, isn't thrilled with his contract, but has show up to workouts and is expected in camp.
Bradford has since returned, and is expected to be the mentor for Wentz moving forward. But that won't change some of the more vocal NFL player's opinions of him, namely Bennett.
They're Week 11 tilt in Seattle just got a bit more interesting.