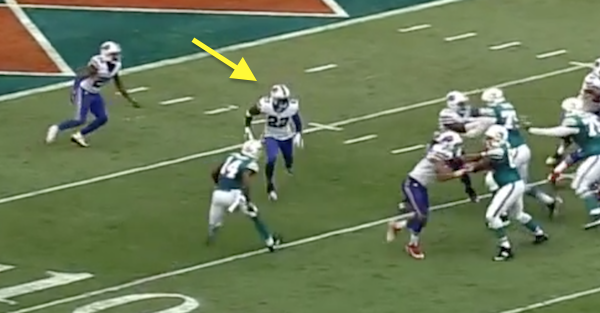 Streamable screenshot
Buffalo Bills safety Aaron Williams took a nasty blindside hit from Miami Dolphins wideout Jarvis Landry in the second quarter of Sunday's contest, and his career could now be in jeopardy.
Related: Team Twitter account calls out player after vicious crackback block injures Bills player
According to ESPN, Williams missed significant time last year after a hit on the field caused him to lose feeling in parts of his body. He later underwent surgery to shave vertebrae in his neck.
According to Fox Sports, Williams is reportedly now suffering numbness in one of his arms and Williams' father has said the safety will consult with his family before making the "best decision that's right for him."
Landry was flagged for unnecessary roughness, and Williams had to be helped off the field before he was taken back to the locker room. Later, he was transported by ambulance to the hospital, where he underwent an MRI before travelling back to Buffalo.
Landry was later fined $24,039 by the league and Bills head coach Rex Ryan has been open about what he perceives as an "unsportsmanlike" hit that was not a football play.