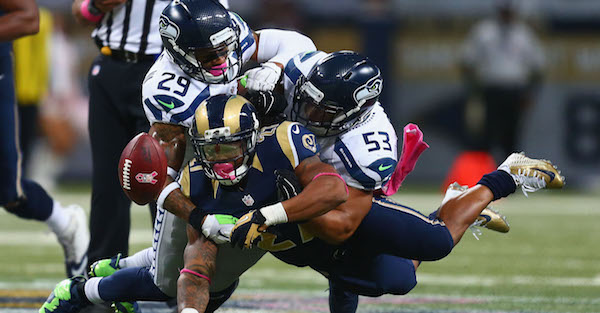 Dilly Vishwanat/Getty Images
ST. LOUIS, MO - OCTOBER 19: Malcolm Smith #53 and Earl Thomas #29 of the Seattle Seahawks force Tre Mason #27 of the St. Louis Rams to fumble the ball in the fourth quarter at the Edward Jones Dome on October 19, 2014 in St. Louis, Missouri. The Rams beat the Seahawks 28-26. (Photo by Dilip Vishwanat/Getty Images)
Former NFL third-round pick Tre Mason didn't report to Los Angeles Rams training camp, and now it's pretty clear why.
According to information obtained by TMZ, Mason had an encounter with police on July 23, his fifth in four months.
Per the report, Mason was making "irrational statements" when his mother called the cops. When they showed up, he reportedly threatened to call the White House to have them fired and made statements about Al Qaeda. Officers also reportedly noticed a broken vase, a broken lamp and a hole in the wall.
The report notes Mason is not believe to have the "ability to make decisions at this time and therefore he was transported [redacted] where he was treated for laceration and admitted for evaluation."
Mason was a key running back for the Rams, rushing for nearly 1,000 yards and five touchdowns over the last two seasons. He was supplanted by Todd Gurley last season as the lead back.