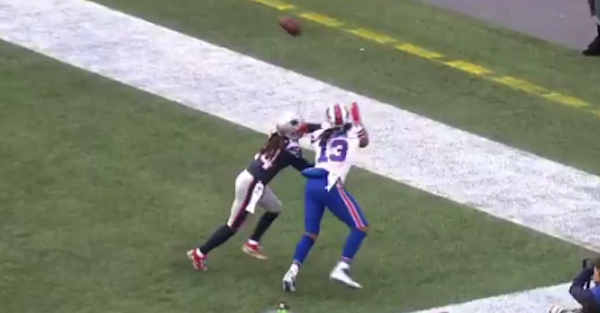 Twitter/@CoachAndCole
Everyone in the NFL world is seeking a reasonable definition for what constitutes a catch and, in Week 16, another instance came to the forefront to highlight the current controversy. Buffalo Bills wide receiver Kelvin Benjamin appeared to haul in a touchdown pass against the New England Patriots and, on cue, the buzz began when it was ruled as an incomplete pass.
Following the game, the chorus of criticism rained down, including from Bills owner Terry Pegula on the play (via ESPN):
"They obviously weren't looking at the same television the rest of the country was looking at, were they? You know what, you can probably find somebody in this country that disagrees [with the catch], and I know one guy would be [NFL senior vice president of officiating] Al Riveron sitting in New York City.

"But everybody I talked to — and they're not Bills fans and they're not necessarily anti-Patriots — they're all baffled by that call, which just wasn't consistent with what replay [should be]."
Amusingly, though, a member of the officiating crew assigned to the game seemingly had no explanation when prompted in the moment by Bills head coach Sean McDermott.
It may be unfair to peg the ruling on an official that may not have had full benefit of review or perspective but this is symptomatic of the problem itself. In the grand scheme, this particular incident likely won't change much for the future but this is an example of the dichotomy operating right now.