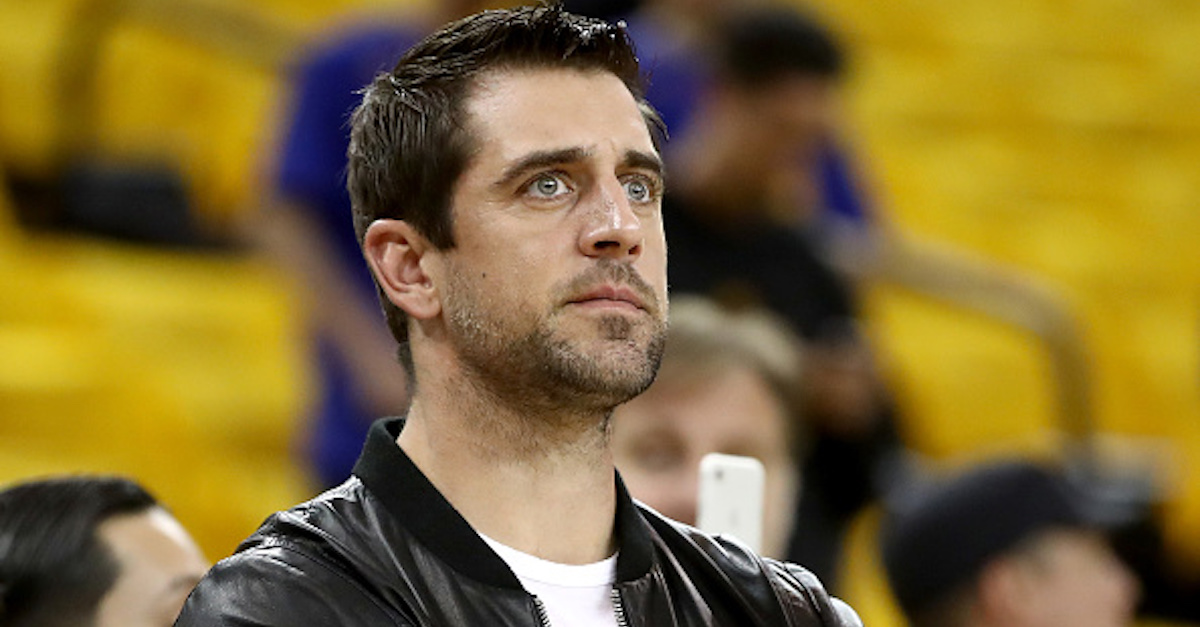 Photo by Ezra Shaw/Getty Images
OAKLAND, CA - JUNE 12: Quarterback Aaron Rodgers of the Green Bay Packers watches warm-ups before the Golden State Warriors take on the Cleveland Cavaliers in Game 5 of the 2017 NBA Finals at ORACLE Arena on June 12, 2017 in Oakland, California. NOTE TO USER: User expressly acknowledges and agrees that, by downloading and or using this photograph, User is consenting to the terms and conditions of the Getty Images License Agreement. (Photo by Ezra Shaw/Getty Images)
Can you imagine Aaron Rodgers playing anywhere else but in Green Bay? For Packers fans, the thought alone is enough to cause heartburn. According to a recent remembrance of history from Bill Barnwell of ESPN, though, that's a reality that nearly happened.
This was back when Brett Favre was still "the guy" for the Packers. He was aging, but he was still one of the more dynamic quarterbacks in the game. Meanwhile, Randy Moss was in a transition period with the Oakland Raiders, but he obviously still had a ton left in him despite being in the league for nine seasons already at that point.
Rodgers, who the Packers took late in the first round of the 2005 NFL draft, was still a relatively unknown backup at that point, but he was certainly an interesting trade chip. Of course, no one knew what he would become for Green Bay — and that's what makes this potential trade even more interesting.
Here's Barnwell, discussing Green Bay's interest in Moss:
"One was the Green Bay Packers, whose fans Moss had pantomimed mooning in 2005. (That this was a response to Green Bay fans' actually mooning Moss and the opposing teams was left unsaid at the time.) Rumors linked Moss to the Packers throughout February and March, and the player who was reportedly heading to Oakland in return for Moss ended up piecing together a decent career for himself. Both Pro Football Talk and Michael Felger of the Boston Herald suggested that the Packers were ready to swap then-backup quarterback Aaron Rodgers as part of a deal for Moss, with Felger suggesting on March 15 that the trade was "on the verge of being announced."
"The Packers denied that they were considering a Rodgers deal and obviously never made the trade, which would have ended up transforming three franchises."
Imagine how the NFL would have changed had the Packers and Raiders been able to reach an agreement on a trade for Moss.
— There's a great chance Rodgers would be the Rodgers we know today, except he'd be doing everything he can do with the Raiders instead of the Packers — potentially making Oakland a Super Bowl contender.
–Favre and Moss could have teamed up in Green Bay and who knows what that would have resulted in. Likely, Favre could have made one more trip (maybe more) to the Super Bowl thanks to the combination of his arm and Moss' deep threat ability.
–New England would have never been able to pair up Tom Brady and Moss, which was one of the most dynamic one-two punches the NFL had seen in a long time. In three seasons with the Patriots, Moss caught 259 passes for 3,904 yards and 50 touchdowns. He was one of the main factors in New England's undefeated regular season in 2007, though that did end in heartbreak against the New York Giants in the Super Bowl.
The NFL as we know it today would be drastically different. Life, as we know it today, may have changed as well.