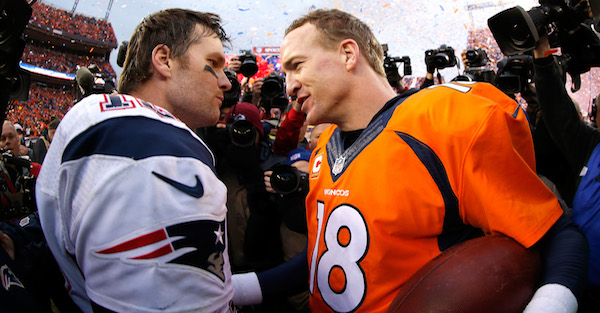 DENVER, CO - JANUARY 24: Peyton Manning #18 of the Denver Broncos and Tom Brady #12 of the New England Patriots speak after the AFC Championship game at Sports Authority Field at Mile High on January 24, 2016 in Denver, Colorado. The Broncos defeated the Patriots 20-18. (Photo by Ezra Shaw/Getty Images)
It was announced just a day ago that the NFL would investigate Peyton Manning's alleged HGH use as the quarterback prepares for another Super Bowl appearance.
The league may hit a wall trying to investigate Manning's reported use, but that's not stopping the NFL from tracking down the nearly month-old report.
Manning's potential use of HGH hasn't reached nearly the level of media scrutiny, exposure or discussion that Tom Brady and the New England Patriots earned from reportedly doctoring footballs during last season's AFC Championship game.
From a witch hunt as the league tracked down the culprit(s) to an investigation that is still ongoing, DeflateGate stole the headlines for months.
Comparatively, HGH rumors seems worse on paper. But that might not matter when comparing the two stories.
Whether it was because the Patriots had gotten caught cheating before, the fact that the source of the DeflateGate report was reputable and Manning's comes from Al Jazeera America or what exactly, Manning's HGH accusation hasn't reached near the fever pitch DeflateGate had at this point last season.
If the investigation drags out, maybe Manning's story catches fire. Until then, it's interesting to see how the two stories surrounding high-profile athletes reportedly cheating are handled in the media and from the league.