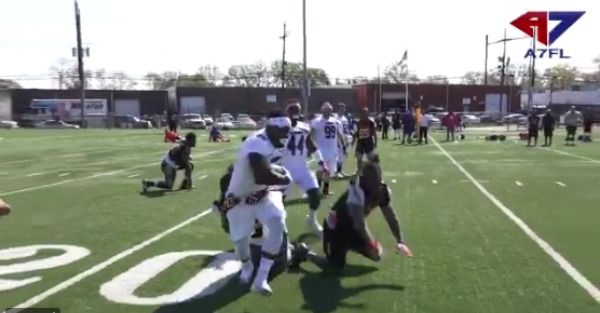 @Athletepedia/Twitter
https://twitter.com/Athletepedia/status/824733663178825728
We've all played tackle football without pads, but the vast majority of us have never even come close to doing it like this.
It's a two-year-old full-contact football league known as the A7FL and you'd have to be half crazy to partake in it. It's essentially football, but without the helmets and the pads, and with a few less players. If that conjures up images of the sport of Rugby, you're only about half right.
It's more like Rugby on steroids. It's a 7-on-7 football league that features semi-pro players who appear to play the game with exactly the same ferocity as their professional counterparts.
And they somehow believe that the lack of all that safety equipment actually makes the game safer. Although, it definitely doesn't look that way.
"This style of game: no pads, tackle, full contact, it makes everybody look twice," said Ryan DePaul,co-founder of the American 7's Football League. "…Removing the helmet, fixing the way we tackle is starting to add up to a safer game. You don't have guys feeling like they're invincible because they have a helmet on."
One look at video footage of an A7FL game won't leave you so sure, however. The speed and raw power of many of the athletes is almost on par with that of pro players. Some, in fact, have played college football and gone on to at least try out for the pro ranks.
RELATED: NFL GM makes one of the most insane predictions about his QB you'll ever hear
Co-founder Sean Korkusuz says he knows of one player who tried out for the NFL over the summer.
"Daryl Virgies is a guy who came through our league then went to a small college in Virginia," he said. "He just had is NFL pro day in the last few months."
By the way, if you're thinking about signing up, you might wanna mull it over a little bit more. All players are made to sign an injury waiver before being able to participate.