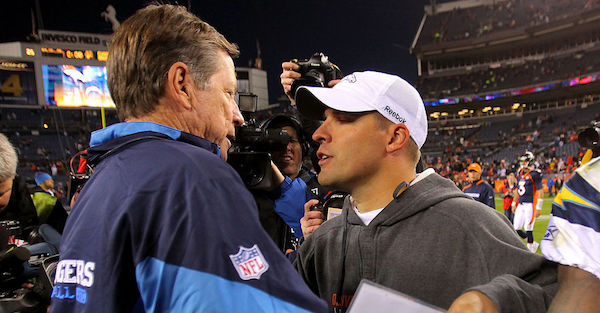 Doug Pensinger/Getty Images
the San Diego Chargers the Denver Broncos during NFL action at Invesco Field at Mile High on November 22, 2009 in Denver, Colorado.
Norv Turner has been around the NFL in some capacity since 1985, and he was most recently the offensive coordinator for the Minnesota Vikings.
Turner abruptly resigned from his position with the Vikings during the middle of last season, and the 65-year old is currently without a job. However, he told SiriusXM NFL Radio that he is open to coaching in the future.
Related: Vikings make stunning coaching move after back-to-back losses
Turner said via the Star Tribune that his return to the sidelines will depend on the "opportunity," but it doesn't sound like he plans on retiring.
"I'm looking forward to football season as a fan or spectator," Turner said. "But there will always be that coaching part of it in me.
Turner said he has visited some NFL training camps and college programs to offer opinions, including the University of Michigan. His son, Scott, is an offensive analyst for Jim Harbaugh.
Turner was the head coach of the Washington Redskins, Oakland Raiders and San Diego Chargers. While his success as a head coach was limited, he was very successful as an offensive coordinator early in his career.
During his tenure as the OC for the Dallas Cowboys from 1991-1993, Turner helped the franchise win back-to-back Super Bowls.
The most recent stops in Turner's career included the OC position with the Vikings, and he was the OC for the Cleveland Browns for one year in 2013.
The market for Turner might be slightly diminished due to his midseason resignation in Minnesota, but he is still regarded as one of the top offensive minds in the NFL.
(h/t 247Sports)