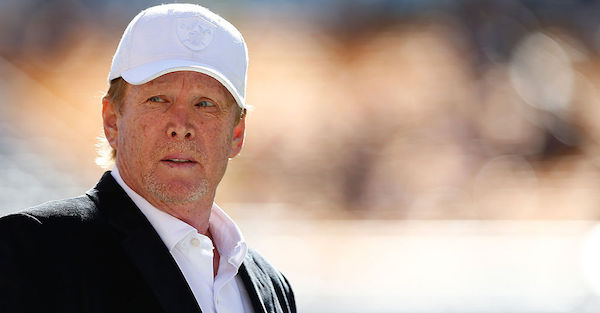 Jared Wickerham/Getty Images
PITTSBURGH, PA - NOVEMBER 08: Owner Mark Davis of the Oakland Raiders on the field before the start of the game against the Pittsburgh Steelers at Heinz Field on November 8, 2015 in Pittsburgh, Pennsylvania. (Photo by Jared Wickerham/Getty Images)
The Oakland Raiders have relocated to Las Vegas, though they plan to remain in Oakland for the next few seasons.
However, the Raiders owe approximately $800,000 in unpaid parking dues, which makes them eligible for eviction.
Related: Oakland is still going to be paying for the Raiders even after they leave for Las Vegas 
The Raiders haven't shared their parking dues in four years.
The Raiders have been paying the minimum amount, and the owe $25,000 for every home game over the last four years. However, the Raiders likely won't be evicted.
The Raiders are expected to play in Oakland two more seasons before relocating, but they could be evicted if the city decides to be petty about the relocation. It doesn't look like they will force the Raiders out, but the fact that they could should at least make the franchise nervous.
(h/t Pro Football Talk)