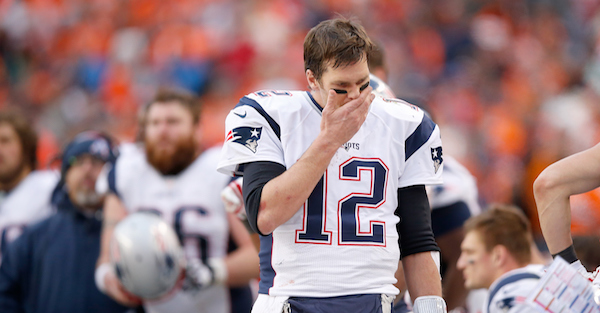 Ezra Shaw/Getty Images
DENVER, CO - JANUARY 24: Tom Brady #12 of the New England Patriots reacts in the second half against the Denver Broncos in the AFC Championship game at Sports Authority Field at Mile High on January 24, 2016 in Denver, Colorado. (Photo by Ezra Shaw/Getty Images)
Tom Brady was literally listed on New England's injury report as "did not practice" on Thursday, leading to Las Vegas changing how it feels about the team's chances in the AFC Championship Game.
On Wednesday, it was reported that Brady suffered a hand injury, but details were scant. Obviously, some speculation followed, but the Patriots downplayed any significance to it hurting the team come the weekend.
That being said, the news of the injury is too much for those in love with (legal) gambling to ignore. So much so, in fact, the Patriots went from being a 9-point favorite to just a 7.5 one. That number might not seem large, but in the world of people placing money on sportsball, it might as well be a billion.
Of note, of course, is that lines often shift due to where the money is going. It isn't always tied to how many points bookmakers actually expect a team to win or lose by. Then again, this isn't a coincidence, as the line is clearly moving because of the Brady injury.
Brady had also appeared on the injury report over the last two months with Achilles and left shoulder issues. Both of things have led to him missing practice here and there, but never a game.
We will keep you posted with more information concerning Touchdown Tom's hand as it becomes available. As of right now, the Patriots are not claiming anything other than him being good to go. That can change.
Brady threw for 4,577 yards and 32 touchdowns with eight interceptions in the regular season.