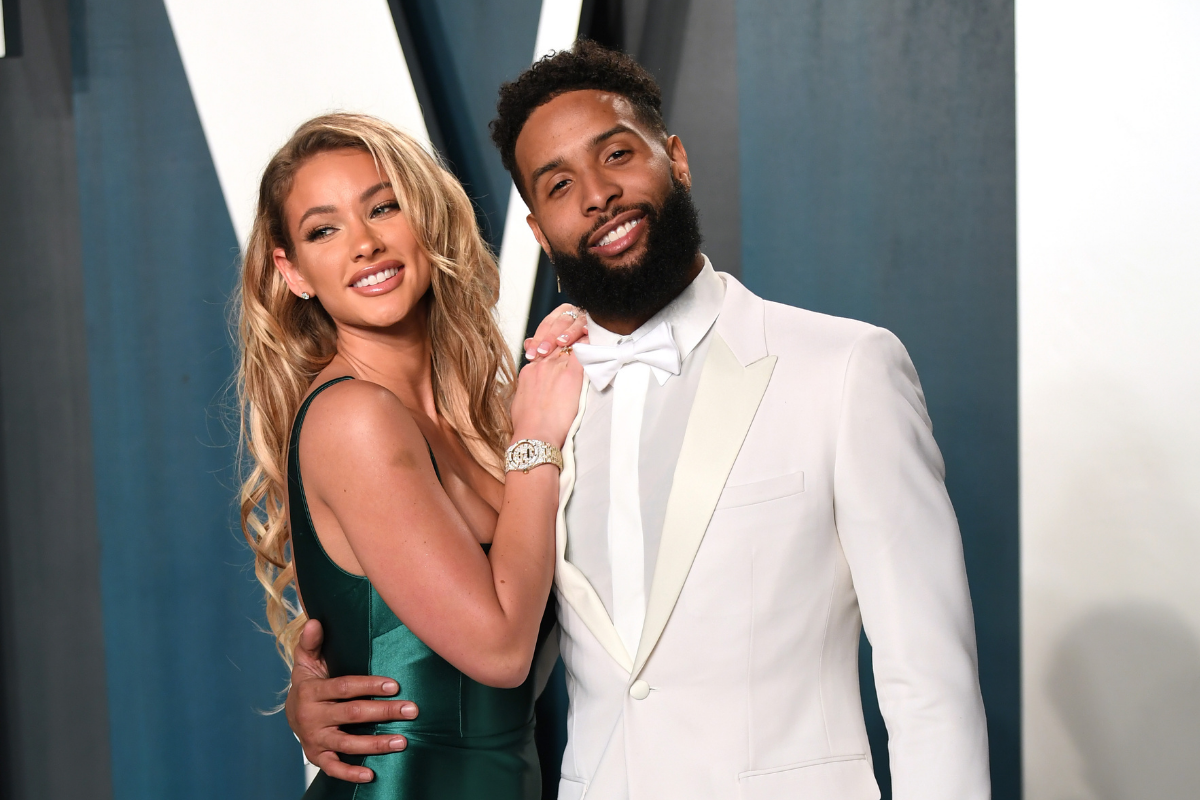 Karwai Tang via Getty Images
Odell Beckham Jr. will have no trouble finding work if he ever stops being great at catching footballs. Everyone from Netflix to ESPN to a local comedy show should be lining up for his comedic services because OBJ knows how to make his fans laugh.
Aside from doing amazing things during his high school football career, college football career at LSU and for the New York Giants and Cleveland Browns, the 29-year-old superstar and newest Los Angeles Ram has beat up and proposed to a kicking net, handed out cash to LSU players and even smacked a police officers butt in New Orleans, Louisiana.
It seems like when he's not scoring touchdowns, he's just trying to have a good time. Colin Cowherd has even called him the NBA player of the NFL. Unfortunately, like many a-NBA player, OBJ tore his ACL against the Cincinnati Bengals in 2020 and struggled getting back to full strength.
OBJ and his funky hairstyle may be one of the most recognizable characters on the gridiron these days. His mother, a former LSU track star who may be even faster than her son, is always in the stands supporting her baller son.
Right next to her is the woman that he calls his girlfriend.
Who is Odell Beckham Jr.'s Girlfriend Lauren Wood?
RELATED: Odell Beckham Jr.'s Mom Was an NCAA Champion Sprinter
Odell Beckham Jr. appears to be dating a woman named Lauren Wood. Wood is an Instagram model and influencer who loves to show off workout videos, Fashion Nova bikini pictures and her NFL star boyfriend. She has a whopping 1.7 million followers.
They didn't go public with their relationship until November 2019, when Wood posted photos of them for his 27th birthday.
"Happy birthday @obj ! Your soul is pure gold . U know I can write lot about you, but I rather keep passing these love letters ? Ceasar home ?? PS this blurry will always be my fave pic of us bc wtf is going on lol yumiii af," she wrote on Instagram.
In March 2020, Beckham Jr. posted about LoLo Wood to wish her a happy "born day."
"It's all about the person u can be ya self wit, I find that this world takes itself a little to serious. Life is full or moments, happy or sad but…what u choose to fill them wit… is on u, I thank u for bein u…YUMI…happy born day," he wrote.
According to Cleveland.com, the pair was quarantining together during the coronavirus pandemic and offseason in Los Angeles. Among the ways they kept their mind off COVID-19 and kept busy during lockdown last year were relaxing by the pool, working out a home gym, and throwing footballs into basketball hoops.
Wood first gained notoriety for working on the MTV show "Wild N' Out" produced by Nick Cannon. She also has endorsements from Hot Miami Styles, Fashion Nova and Pretty Little Things. How they met remains a mystery, but I'm sure it was love at first sight. Clearly she was a great selection.
Beckham has also been linked to Zendaya and Amber Rose in the past.
She and OBJ's Mom Are His No. 1 Fans
OBJ's girlfriend Lauren Wood attended plenty of OBJ's games when he was catching passes from Baker Mayfield on the Browns.
In 2019, OBJ?s mother Heather Van Norman posted a photo to Instagram for the first time of them two on-field prior to a Browns football game. Neither of them had posted about each other yet, but it looked like they were pretty serious by then.
If anything, it seems like his mom likes his new girlfriend.
OBJ's Wild Bedroom Rumors
Beckham Jr. has done and said a ton of crazy things. In 2017, he was busted on gun and drug charges in Texas. But an allegation that took social media by storm the day after Labor Day 2020 has to be the craziest.
A woman by the name of Slim Danger, who is reportedly the mother of rapper Chief Keef's baby and an adult film star, went on the No Jumper Podcast hosted by Aliza and Celina Powell. She revealed a very interesting tidbit about her alleged time with Odell Beckham Jr., whenever that was.
Slim Danger told the women that OBJ requested she send him a video of her on the toilet doing her business as well as not showering or wearing underwear. Then Slim Danger told the two women that the Los Angeles Rams wide receiver allegedly enjoys a little thing called the "Cleveland Steamer."
Please, look that up on Google BUT NOT ON YOUR WORK PHONE.
"He loves to be sh***ed on," Danger told the No Jumper Podcast.
Well then. Of course, this story blew up and was immediately trending everywhere.
Take this allegation with the biggest grain of salt ever. No one has any idea if it's true, but it would be something to make up this story completely out of thin air. Plus, no one should be shamed for their bedroom preferences, am I right? Right? Bueller?
Anyway, that probably isn't the craziest fetish story regarding a standout professional athlete. OBJ should probably ignore all of this and focus on catching passes from Matthew Stafford.
OBJ & Lauren Expecting First Child Together
OBJ is going to be daddy OBJ soon.
Lauren announced on Sunday, November 21, that she was pregnant. She shared pictures from a maternity photoshoot with Beckham Jr. holding her stomach.
"Can't wait baby!" he wrote on her social media post.
We don't know much else about the baby, but we know it's probably going to be a star athlete one day. As for the name, well, we'll just have to wait and see.
This post was originally published on September 8, 2020. It was updated after Lauren's pregnancy announcement.
Related Videos