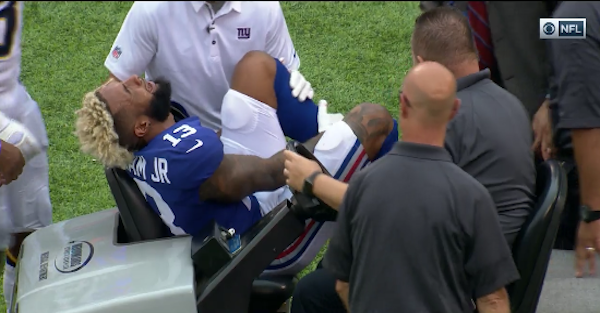 Clippit screenshot
New York Giants receiver Odell Beckham Jr. was carted off the field after suffering an injury during the fourth quarter of Sunday's game against the Los Angeles Chargers and did not return. According to the Giants, he fractured his ankle:
Beckham appeared to be grabbing his left ankle as team officials examined him on the field before placing him on the cart with just over three minutes remaining.
Beckham has been playing through a previous ankle injury all season, which forced him to miss the Giants' season opener against the Dallas Cowboys.
Fellow Giants receivers Brandon Marshall — who also carted off the field — and Sterling Shepard also experienced left ankle injuries during the game against Los Angeles.
Both players were also unable to return after their respective injuries.
Beckham entered Sunday's game with 20 receptions for 205 yards and two touchdowns.