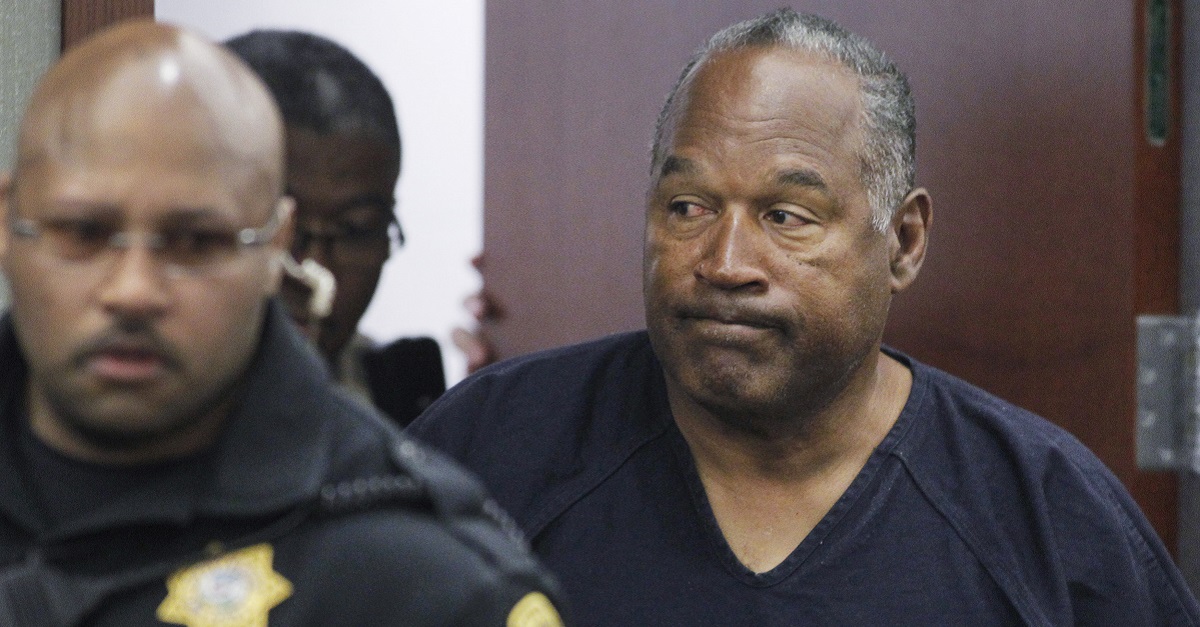 Steve Marcus/Getty Images
VEGAS, NV - MAY 17: O.J. Simpson (R) is escorted into the courtroom by Clark County Detention Center corrections officer George Gafford at an evidentiary hearing in Clark County District Court on May 17, 2013 in Las Vegas, Nevada. Simpson, who is currently serving a nine-to-33-year sentence in state prison as a result of his October 2008 conviction for armed robbery and kidnapping charges, is using a writ of habeas corpus to seek a new trial, claiming he had such bad representation that his conviction should be reversed. (Photo by Steve Marcus-Pool/Getty Images)
O.J. Simpson, the former football star whose life collapsed following a trial for the killing of his ex-wife and then a prison sentence for robbery, was granted parole from a Nevada commission by a 4-0 vote from the parole board.
Simpson, now 70, has served just over nine years of a 30-year sentence for a memorabilia robbery in Las Vegas in September, 2007. Simpson and five other men entered a hotel room and held two memorabilia dealers at gunpoint because Simpson claimed they had possession of items that rightfully belonged to him. Simpson was arrested, held without bail, and eventually convicted of kidnapping, armed robbery, assault with a deadly weapon, burglary and conspiracy.
Now, Simpson will get to spend the rest of his years in society, if he stays out of trouble. He could be released as soon as Oct. 1
At his parole hearing, Simpson appeared contrite, as he communicated with the Nevada Board of Parole Commissions on several things, including the positive factors for his parole, as well as his role in the robbery for which he was convicted. Simpson got emotional at one point when talking about the robbery, insisting that the items involved were his property.
Simpson's oldest daughter, Arnelle, was also involved as a character witness on behalf of her father. Bruce Fromong, the victim of the 2007 robbery of which Simpson was convicted, as gave a statement on behalf of Simpson.
Simpson was a football star at Southern California, where he won the Heisman Trophy in 1969. He played in the NFL from 1969-1979, and in 1973, became the first player to rush for more than 2,000 yards in a season. He played for the Buffalo Bills until 1977, and was traded to the San Francisco 49ers following that season, an that's where he played the final two years of his career. He was inducted into the Hall of Fame in 1985
But that wasn't the end of O.J. He became a pop culture icon by starring in a Hertz commercial that famously showed him leaping over luggage as he ran through an airport. He also found fame in movies with roles in Roots and the Towering Inferno, among others, but he may have gained the most movie fame with his portrayal of the dimwitted Det. Nordberg in the Naked Gun movies. He became a commentator on Monday Night Football as well.
His life took a turn in 1994 when he was arrested in the killing of his ex-wife, Nicole Brown Simpson, and a friend, Ronald Goldman. Simpson and his friend, Al Cowlings, famously led police on chase — the White Bronco chase — that was internationally television.
His court appearances were tagged, "The Trial of the Century," and he maintained his innocence throughout. In a controversial ruling, the jury agreed, and Simpson was found not guilty. However, he was found "liable" in the deaths in a civil suit and ordered to pay $33.5 million.