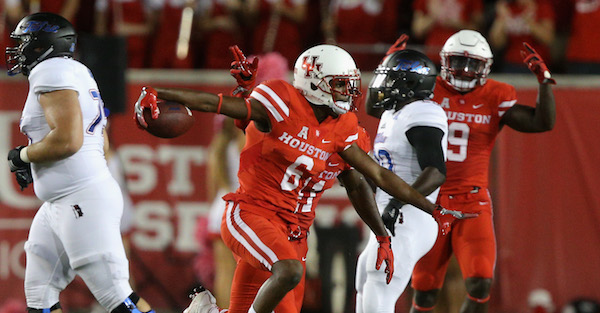 Bob Levey/Getty Images
HOUSTON, TX - OCTOBER 15: Howard Wilson #6 of the Houston Cougars intercepts a pass against the Tulsa Golden Hurricane in the first half on October 15, 2016 in Houston, Texas. (Photo by Bob Levey/Getty Images)
The Cleveland Browns generally received high marks for their performance in the 2017 NFL Draft and the addition of former Houston cornerback Howard Wilson in the fourth round (No. 126 overall) was a big reason why. Unfortunately for both team and player, his NFL debut will seemingly have to wait for quite some time.
As noted by ESPN's Adam Schefter, the 6'1, 184-pound defensive back suffered a brutal injury in that he fractured his kneecap during minicamp on Saturday. This would be unfortunate news for any player but it is doubly rough for a rookie that is trying to get his footing in the NFL.
Upon being drafted, Wilson showed a great deal of confidence in breaking down his own game to Cleveland.com:
"I feel like I'm a physical corner that can take the ball away," he said on draft weekend. "The ball is in the air it has to be mine. I go and get it by any means. At U of H (University of Houston), we called ourselves the 'Jack Boys' because we were jacking everything that was in the air or anything that was on the ground. I just have to go get it every time."

"When I sat the year out, it made me love the game more. It made me cherish it and not take it for granted. It made me take every play like it was my last. Anytime that I had the opportunity to get the ball, that's what I was going to do."
Hopefully, that type of drive that occurred after he missed the 2015 season with injury will reappear in this spot for Wilson and it will be easy to root for him in the future. As for the Browns, they will need to make other plans for the next few months as they await his healthy return.