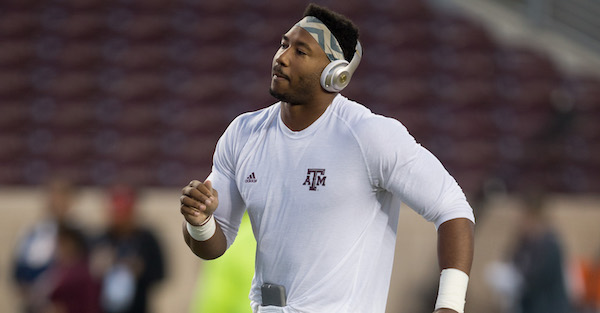 Bob Levey/Getty Images
COLLEGE STATION, TX - NOVEMBER 24: Myles Garrett #15 of the Texas A&M Aggies warms up before playing LSU Tigers at Kyle Field on November 24, 2016 in College Station, Texas. (Photo by Bob Levey/Getty Images)
NFL.com's Bucky Brooks is one of the best NFL Draft experts today, but his recent comments on who the best overall prospect in upcoming 2017 NFL Draft is sure to raise some eyebrows.
Although Texas A&M's Myles Garrett has been the favorite to go No. 1 overall for months now, Brooks has LSU's Jamaal Adams as his best overall prospect.
Here is how Brooks defended the take via SaturdayDownSouth:
"An AFC secondary coach called him a ?culture changer? based on the way that he holds his teammates accountable for their preparation and performance. The coach went on to tell me that Adams has the ?it factor? that every coach covets in a leader and top player."
Brooks preferring Adams over Garrett may seem like a very bold opinion, but Adams is widely expected to be selected in the top-10 in this year's draft as well.
Adams, like Garrett, had a very successful collegiate career, and is coming a 2016-17 season where he registered 76 tackles for one of college football's most vaunted defenses.