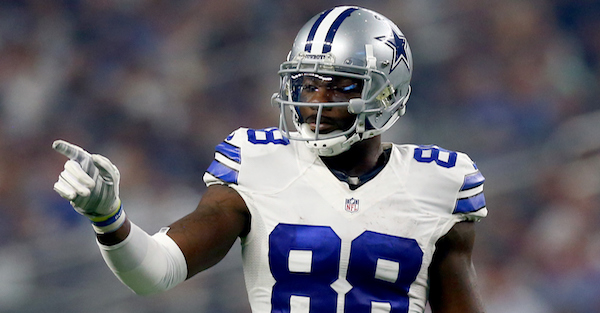 Tom Pennington/Getty Images
ARLINGTON, TX-SEPTEMBER 13: Dez Bryant #88 of the Dallas Cowboys points to a teammate in the first half as the Cowboys take on the New York Giants at AT&T Stadium on September 13, 2015 in Arlington, Texas. (Photo by Tom Pennington/Getty Images)
The Dallas Cowboys were the top seed in the NFC last year after a 13-3 regular season, and they return two emerging stars on the offensive side of the ball in Dak Prescott and Ezekiel Elliott.
However, the Cowboys' defense has lost seven players already this offseason, and NFL writer Elliott Harrison thinks the New York Giants have surpassed the Cowboys as the top team in the NFC East and the NFC.
Related: After spending his entire career with the Cowboys, another defensive starter is gone
The Giants signed offensive tackle D.J. Fluker and receiver Brandon Marshall this offseason, and they also re-signed defensive end Jason Pierre-Paul.
Here's Harrison's analysis on the Giants, whom he lists at No. 5 in his NFL power rankings.
"If D.J. Fluker pans out, Big Blue might be the favorite coming out of the NFC," Harrison wrote. "Laugh at your own peril. (Sorry for that line. Been watching way too many '80s movies lately, movies where chintzy dialogue is king, movies like "Conan the Barbarian.") Offensive line could row this boat to the postseason. Ditto Brandon Marshall, who won't be mistaken for Captain Stubing any time soon.
Harrison has the Cowboys at No. 7 on the list.
Dak Prescott "might have to put up a few more points per game, as Dallas lost multiple starters on defense to the free-agent marketplace. By my count, the Joneses must come up with contingency plans for a LG, RT, QB2, DE, DT and S. La'el Collins will fill in at LG, but O-line depth is more of an issue. Same deal at safety, where Byron Jones returns, but the 'Boys lost Barry Church and J.J. Wilcox. This breadth of defections — large and small — is why the Giants leapfrogged Dallas. That, and a 2-0 record against the Cowboys last year."
The Cowboys lost twice to the Giants last season, though both teams were eliminated in the playoffs by the Green Bay Packers.
Having the Giants over the Cowboys is bold, but the number of departures this offseason in Dallas is certainly a reason for concern.
(h/t Sports Day)