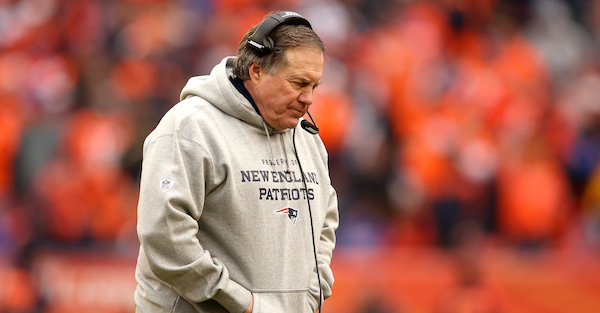 Doug Pensinger/Getty Images
DENVER, CO - JANUARY 24: Head coach Bill Belichick of the New England Patriots looks on in the second half against the Denver Broncos in the AFC Championship game at Sports Authority Field at Mile High on January 24, 2016 in Denver, Colorado. (Photo by Doug Pensinger/Getty Images)
The New England Patriots have been extremely active in recent days and part of that roster overhaul includes an interesting addition to the secondary. Bill Belichick and his staff swung a deal to pick up former Buffalo Bills cornerback Stephon Gilmore and, while many assumed that was to replace the now-departed Logan Ryan, it does not appear that incumbent No. 1 cornerback Malcolm Butler is very happy about it.
Butler is, of course, a Super Bowl hero in New England and he has played at an extremely high level in the recent past. However, the Patriots are notoriously stingy when it comes to contract negotiations and the fact that this has leaked out is probably not the best sign for Butler when it comes to returning to Foxborough.
Because he is a restricted free agent with a first-round tender, Butler is obviously within his rights to explore another avenue to get the deal he seeks. With that said, it would be aggressive for another NFL team to pay him what he wants and give up what it would take in draft ammunition, which could leave Butler on the market for longer than he apparently would like. Waiting out Bill Belichick seems like a bold strategy, but we'll see if it pays off.