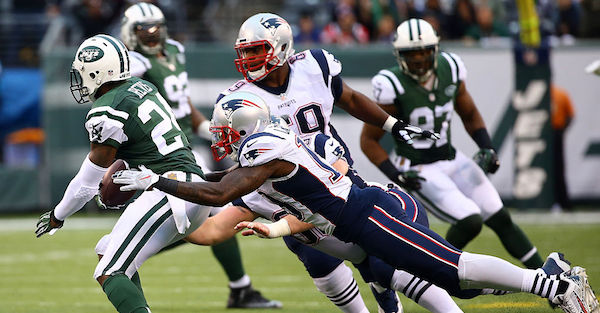 Al Bello/Getty Images
EAST RUTHERFORD, NJ - DECEMBER 27: Darrelle Revis #24 of the New York Jets intercepts a ball intended for Rob Gronkowski #87 of the New England Patriots in the third quarter during their game at MetLife Stadium on December 27, 2015 in East Rutherford, New Jersey. (Photo by Al Bello/Getty Images)
It's becoming more and more likely the New England Patriots won't have Malcolm Butler at corner next season, and they already lost Logan Ryan to the Tennessee Titans.
Related: A surprising team is reportedly interested in trading for the Patriots CB Malcolm Butler
Bill Belichick will need to find another corner to play opposite of newly acquired Stephon Gilmore, and one option could be to bring in former Patriot Darrelle Revis.
Revis was cut by the New York Jets earlier this offseason following the worst year of his career. He recently had charges dismissed against him after an incident in Pittsburgh last month. Karen Guregian of the Boston Herald wrote about how the Patriots re-signing Revis would make sense for both sides.
"When it comes to a Revis encore with the Super Bowl champs, it?s really a two-sided issue," she wrote. "Would the veteran cornerback, who won a ring with the Patriots during the 2014 season, want to return, and work that hard again, knowing what?s expected in Foxboro? More importantly, would the Patriots even want him back, especially after watching that mammoth drop-off in performance last season?

"Let?s take it from the Revis side first. After walking out of the courtroom Wednesday, Revis claimed he had lost 10 pounds, hired a new trainer, and was ?excited? for the 2017 season after being dumped by the Jets, who basically decided that eating the remainder of his contract was better than keeping him in their secondary."
She noted how Revis knows the Pats' system, and he might be willing to sign a deal for the vet minimum since the Jets owe him $6 million no matter what.
"That brings us to the Patriots? side," Guregian said. "Would they want him? If Belichick was convinced Revis could help, an attempt would likely be made if there was an opening at corner. Just as an aside, word has it, the idea of moving to safety came up the last time there was a negotiation between the two sides, and Belichick shot it down because he didn?t think Revis? skills translated to the position."
Revis wouldn't have to be the No. 1 corner for the Patriots since they signed Gilmore, so a reunion between the two would make sense. If Revis is willing to play for the minimum, we could see him back in Foxborough next season.
(h/t All 22)