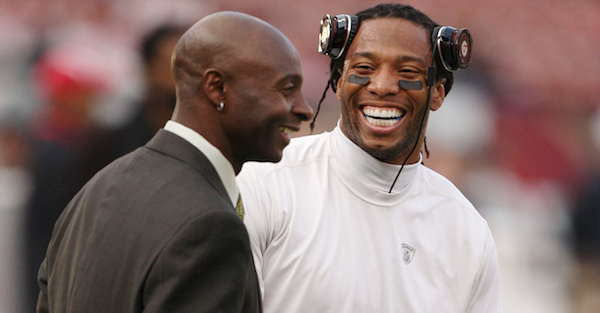 Jed Jacobsohn/Getty Images
SAN FRANCISCO - DECEMBER 14: (R-L) Wide receiver Larry Fitzgerald #11 of the Arizona Cardinals and former San Francisco 49ers wide receiver Jerry Rice speak during warmups prior to the game between the 49ers and the Cardinals at Candlestick Park on December 14, 2009 in San Francisco, California. (Photo by Jed Jacobsohn/Getty Images)
Larry Fitzgerald has been one of the best and most consistent wide receivers in the NFL throughout his career, but it appears as if his time with the Arizona Cardinals might be drawing to a close.
Related: ESPN thinks these three college coaches should bolt for the NFL
In an interview with Jim Gray on Westwood One, Fitzgerald indicated he wanted to play in 2017 ? as long as he was playing on a contender.
?No, I wouldn?t say that I?m contemplating [retirement] right now,? Fitzgerald said. ?But I?m uncertain what I?m going to do moving forward. But I still love the game, I love the competition. I love being around the guys and competing for a championship. That?s a lot of fun to me, and that?s kind of where I?m at right now.?
The Cardinals are 5-8-1 this season, and they are seemingly far removed from their NFC Championship Game appearance a season ago. Carson Palmer's play has slipped, but Fitzgerald has still be consistent. He has 98 catches for 949 yards and five touchdowns this season. He is only 12 receptions away from having his best season in terms of receptions in his career.
If Fitzgerald isn't with the Cardinals in 2017, it's possible he could land with the Minnesota Vikings. His father, a Minnesota sportswriter, said his son has always wanted to play for the Vikings since he was a ballboy for the team growing up. If Teddy Bridgewater isn't the same, Fitzgerald might not fair any better in Minny.
(h/t Pro Football Talk)