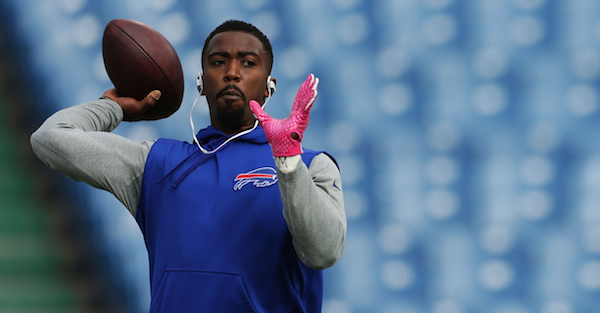 Brett Carlsen/Getty Images
ORCHARD PARK, NY - OCTOBER 04: Tyrod Taylor #5 of the Buffalo Bills warms up before game against the New York Giants at Ralph Wilson Stadium on October 4, 2015 in Orchard Park, New York. (Photo by Brett Carlsen/Getty Images)
Scratch Tyrod Taylor off the list of potentially available quarterbacks; he's agreed to a restructured deal that will keep him in Buffalo as the Bills' starting quarterback.
Terms aren't yet available, but the terms are less important that what this means.
RELATED: It looks like the Cowboys have made their decision on Tony Romo
Several teams – the Cleveland Browns and New York Jet for example —  were connected to Taylor, assuming he would have hit the market. Now, that's off the table.
Let the quarterback hunting begin.