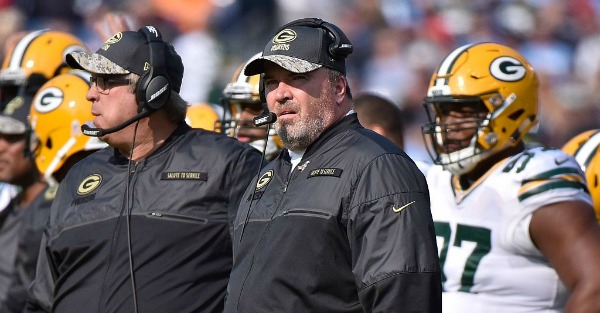 Frederick Breedon/Getty Images
The Green Bay Packers' long-standing tradition of standing by head coaches — the franchise has had just four in the last 24 years — is likely in jeopardy after an embarrassing loss to Tennessee Sunday.
The Pack have now lost three straight, and four of their last five, dropping them to 4-5 and third place in the NFC North. And while it's certainly not in the organization's nature to give up on its leader (Ray Rhodes was fired after one season at the helm), McCarthy's 11-year run appears to have a hit a wall.
Sunday's debacle against a Titans side that tallied 47 points and 447 total yards was a microcosm of Green Bay's last three outings. Simply put, they've been paper thin on the defensive side of the ball, allowing 158 points and 1,169 total yards in that span. Things haven't been much better offensively. On the season, they're average 24 points per game and the predictable Aaron Rodgers to Jordy Nelson combo just hasn't been enough.
For his part, however, McCarthy, who's 108-60-1 as head coach with a Super Bowl victory in tow, seems undaunted by the slump.
"Let's state the facts: I'm a highly successful NFL coach," McCarthy told reporters Monday. "With that, I've never looked at the ride to this point as smooth."
RELATED: Late hit on Aaron Rodgers sparks massive scuffle between Packers-Titans
That line of thinking doesn't work in this league, though. "What have you done for me lately?" has always been and is likely to always be the prevailing sentiment among team owners and front offices.
And it's a harsh reality that the Packers' next seven games are certain to determine McCarthy's fate.