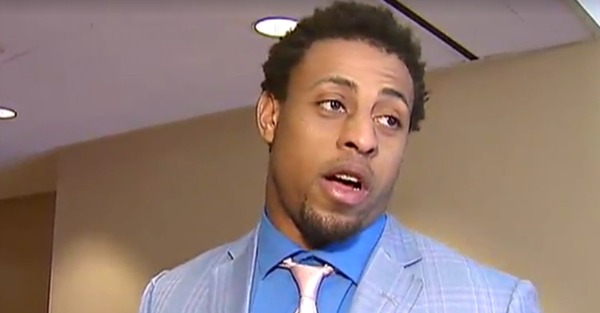 KDFW-TV Screen Shot
Greg Hardy, the very talented but often former NFL player, pleaded guilty Friday to a misdemeanor drug charge that will keep him out of prison.
Hardy faced a felony cocaine possession when police say they found cocaine in his car during a traffic stop in Richardson, Texas. Hardy denied the cocaine belonged to him.
As part of the plea deal, Hardy has to stay out of trouble, perform community service, and pay a $500 fine, KDFW-TV in Dallas reported.
RELATED: Greg Hardy?s latest move is one of desperation
Hardy is no stranger to trouble. The former defensive end who played for the Carolina Panthers and Dallas Cowboys was suspended for 10 games in the NFL after a domestic violence case involving his ex-girlfriend in 2014 when he was with Carolina. The case was ultimately dropped and his suspension reduced to four games.
He didn?t play in the NFL last year and hasn?t had any interest this off season.
No matter. Hardy says he?s training as an MMA fighter.