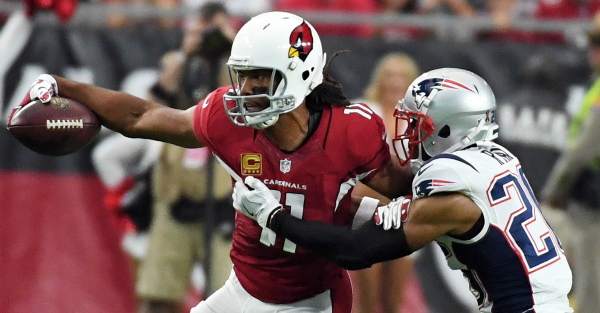 Ethan Miller/Getty Images
XXX during the NFL game at University of Phoenix Stadium on September 11, 2016 in Glendale, Arizona. New England won 23-21.
NFL Network's Ian Rapoport has reported that Arizona wide receiver Larry Fitzgerald will retire at the end of the season, while his father took to Twitter to say otherwise.
Fitzgerald, who caught two touchdowns in Arizona's season-opening loss to New England, has previously said he'll retire when quarterback Carson Palmer does.
After his strong performance Sunday, reports emerged that Fitzgerald has no plans to retire:
Fitzgerald's a nine-time Pro Bowler and has over 13,000 career receiving yards. He currently ranks fifth all-time in receiving yards per game (76), showing consistency across his 12-year career.
Despite having John Brown and Michael Floyd as already strong contributors, the Cards would lose easily their most steady presence at wideout.