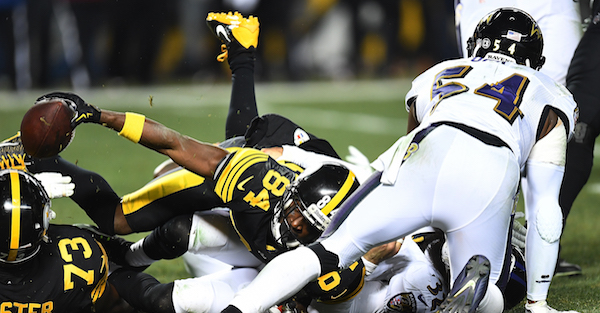 Joe Sargent/Getty Images
PITTSBURGH, PA - DECEMBER 25: Antonio Brown #84 of the Pittsburgh Steelers reaches for the end zone to score a 4 yard touchdown in the fourth quarter during the game against the Baltimore Ravens at Heinz Field on December 25, 2016 in Pittsburgh, Pennsylvania. (Photo by Joe Sargent/Getty Images)
Baltimore Ravens outside linebacker Zachary Orr was one of the biggest surprises in the NFL this season, but he is being forced to retire due to a congenital neck condition.
Related: Former Ravens tight end tragically passes away at age 29 
Orr, 24, announced his decision at the Under Armour Performance Center alongside coach John Harbaugh and general manager Ozzie Newsome. Orr was placed in the injured reserve before the Ravens' season-finale against the Cincinnati Bengals.
"I got a CAT scan done, and the CAT scan revealed that I had a condition I was born with that less than one percent of the world has," Orr said. "Pretty much at the top of my C1, at the top of my spinal cord, I don't know the exact term, but it was never formed completely, and that puts me at a really increased risk than anybody else – an already increased risk than we're already at – for a fatality or being paralyzed.

"Pretty much this disqualifies me from playing collision sports, which obviously includes football. It's really just a blessing that I've been able to play the game – I've been playing the game since I was nine years old – so long without any major injury happening."
Orr recorded 130 tackles and forced one fumble in 2016. The former undrafted free agent out of North Texas was set to become a restricted free agent after this season.
Orr was primarily a special teams play in his first two seasons in Baltimore, and he won the starting linebacker job heading into the 2016 season. Harbaugh said Orr was an extremely hard worker.
"You often hear that football builds character, and that's definitely true. … It also shines a light on character, and it shows people kind of who they are, and to me, a shining example of that is Zach Orr," Harbaugh said. "Coming in here and what he accomplished most definitely, but even beyond that, how he conducts himself every day, how hard he works. He's highly intelligent, as hard a worker as you're ever going to see, never, ever has a negative or disparaging word for anything or anybody.

"All he does is come in and just work as hard as he can and be his best and take care of his teammates and do everything he can to help the team, and to see that rewarded with the kind of success that he's had, I think it's something for young people to take a look at."
Orr hurt his neck in a game against the Pittsburgh Steelers. He finished the season tied for eighth in the league in tackles.
He received the Ravens' "Good Guy" award after the season for his cooperation with the local media. He also said he might consider coaching in the future.
"I've received nothing but support from the Baltimore Ravens from Day One, and it starts from the top with the owner, Mr. [Steve] Bisciotti, [general manager] Ozzie [Newsome], Coach Harbs [John Harbaugh], all the way throughout the building," Orr said. "I'm just thankful that I was able to come here and grow as a player and, most importantly, grow as a man because in life, that's what's most important. As far as what's next, I still have love for the game.

"I don't know exactly what I'm going to do next. I know I want to get into coaching and things like that. But I'm ready to take whatever's next 110 percent. My brother said it best. He said, 'Instead of asking, "Why me?", ask, "What's next?".' And that's what I'm looking forward to and whatever that is, I'm ready to give it 110 percent."
(h/t Baltimore Sun)