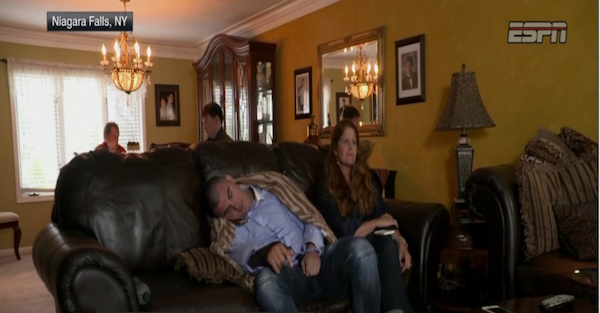 Twitter/Screenshot
At the time ESPN cut to the home of Chad Kelly, ten quarterbacks had been selected in the 2017 version of the NFL Draft.
Kelly was not one of them, and when the camera cut to the former Ole Miss quarterback, it appears that the wait had taken a toll on him.
Related: Chad Kelly may take drastic measures after NFL Combine snub, at least according to his agent
Kelly had some off-the-field concerns at Ole Miss and Clemson, and he also has battled several injuries since last season. The combination of those two things are likely the biggest reasons why he's still available despite his natural ability.
Kelly's uncle, Hall of Famer Jim Kelly, said his nephew would prove teams wrong in the NFL.
Kelly was eventually selected with the final pick in the draft by the Denver Broncos.